More intolerance of childish behavior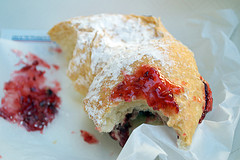 "In my eyes, it's irrelevant; I don't care who he pointed it at," said William Welch. "It was harmless. It was a danish." Mr. Welch is the father of a 7-year-old Josh Welch who goes to Park Elementary School in Baltimore, Maryland.
In March, 2013, the second-grader nibbled a pastry into what his teacher thought was a gun. Josh explained that he started out to shape a mountain but it could have looked like a gun.  Josh stated that  "It was already a rectangle and I just kept on biting it and biting it and tore off the top and it  kinda looked like a gun but it wasn't." He allegedly pointed it either at the ceiling or another student and said "bang-bang." Josh was suspended for two days.
Josh's father is concerned about a gun reference in his school file and how it might affect his future. Although federal law protects students' files (FERPA) there are times when they become available, with or without a parent's consent, to government, educational or other entities.
What are your thoughts about this incident? Was the school right in suspending him for two days? Should "zero-tolerance" policies be strictly enforced or should each case be considered individually along with the age, attitude and disposition of the student. We have posted many times about these policies which seem to be hitting lower grades and for any act that is interpreted as violating the rule.
Find great resources in our
---