New York teen flexes her mussels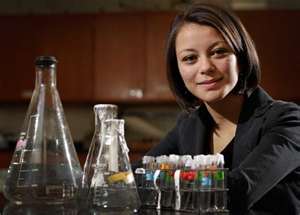 Samantha Garvey is a 17-year-old senior at Brentwood High School in New York. She has a 3.9 grade point average, studies Italian and plays the violin.  A special interest in science has resulted in her becoming a semi-finalist in the annual Intel Science Talent search. The competition carries an award of $100,000.00 in scholarship funds.
Samantha's interest in marine biology led her to study the effects of predators on ribbed mussels. She spent two years researching the effects of the Asian short crab on the mussel population in a Long Island salt marsh. I get so excited to tell people about my mussels and crabs that I become a completely different person," she said. Samantha follows her dad's advice to "Pick your head up and keep on going. You can sit around and mope, but what's that going to get you?"
Samantha and her family have fallen on hard times to the point where they recently ended up in a homeless shelter. Her mother was involved in a car accident in 2011 and was off work for eight months. Her father is a cab driver and couldn't keep up with the bills for his family that included Samantha and two younger siblings. On New Year's Eve of 2011, they were evicted from their home. Once word got out about her accomplishments in school, local authorities got together to provide them a rent-subsidized house.  Samantha has applied to Brown and Yale Universities and hopes to begin her college career in the fall. The finalists in the Intel competition were announced at the end of January and Samantha didn't make the cut. Regardless, her future is bright and we look forward to great things from her.

Sam's college dreams will come true with a gift from AT&T announced in January, 2012. They are giving Sam $50,000.00 towards her university expenses. Samantha's recent appearance on the Ellen Show is posted here.  Her down-to-earth attitude and wisdom about facing life's challenges are refreshing. An additional surprise came to Samantha when she was invited to attend President Obama's State of the Union address on January 24, 2012 in Washington, D.C.
Update: Samantha graduated from Brentwood High School in June, 2012 and will start Bowdoin College in Maine this fall. All the best, Samantha!! On September 6, 2012, President Obama accepted the nomination of the Democratic Party to run for a second term. In his remarks he stated that young people like Samantha "gives me hope" for the future.
In 2015, Samantha became an intern at the Maine Research Institute.  She is majoring in earth and oceanographic science and environmental studies.
Find great resources in our
---