Newspaper tackles bullying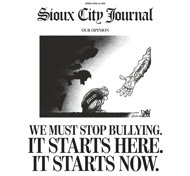 In a rare act of advocacy, the Sioux City Journal dedicated the entire front page of a Sunday issue in April, 2012 to bullying. This was precipitated by the suicide of 14-year-old Kenneth James Weishuhn on April 15, 2012.
Kenneth came out to his family and friends a month earlier and the bullying began. He suffered intense harassment at school and online threats including a hate group posted on Facebook. Death threats were made and it was too much for Kenneth to bear.
We commend the Sioux City Journal for taking a strong stand against this epidemic. Bullying can no longer be ignored as it hits small and large communities across the country. If you're a student reading this post, talk with your friends about standing up for the weak and against all bullies on and off-campus. Take a lesson from the Bully Guards at Johnson High School in Texas.
Find great resources in our
---