Random drug tests for college students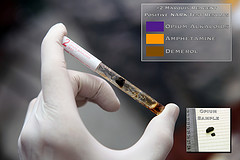 Linn State Technical College in Minnesota trains students for careers in heavy-equipment operation, or involving high-voltage electricity and dangerous, caustic chemicals. Obviously, while on the job, the employee must be clear-headed and free from mind-altering substances. So, the question is, should students studying for a career in these occupations be subjected to random drug testing while attending Linn State?
The school decided in 2011 that it was their duty to implement a policy of testing for all students even though they were adults and not middle or high school students. We've written about the validity of random drug tests for tweens and teenagers. In fact, the issue has gone to the U.S. Supreme Court and been upheld on several occasions. See these stories about 12-year-old James Acton and high school student Lindsay Earls.
Linn State's policy called for a $50.00 fee for each of their 1,200 students. The tests would be used to determine the presence of cocaine, methamphetamines, marijuana, opiates and other substances. The school explained that such testing would become a part of their life once working in these industries. There was no penalty for the first or even second positive test result. The school offered counseling and educational programs to help the student avoid drug use and dependence. Expulsion or suspension wasn't an immediate consequence of a positive drug test.
The policy was immediately challenged in court and a temporary stay was entered by a federal judge. A hearing was scheduled and the court ruled in a written opinion that granted the students an injunction against the policy. The judge found the policy to be overbroad since some students at Linn State were not involved in hazardous working conditions or heavy equipment operations. The court noted that the school had "operated successfully and safely since the 1960s without drug or alcohol testing. No drug related injury has ever been identified at the College."  Consequently, the need to drug test every student before a complete legal analysis was done didn't exist. "Plaintiffs will suffer irreparable harm if their urine is tested and the results given to Defendants before Plaintiffs' constitutional claims are resolved," wrote the court.
The student's request for the preliminary injunction was granted. That means the policy was not permitted to continue or be enforced until the legal issues were fully developed and litigated. We have no further information on this since the court's ruling in November, 2011. Apparently the school decided to abandon the policy.
Find great resources in our
---