School district agrees to affirm the dignity and self-worth of LGBT students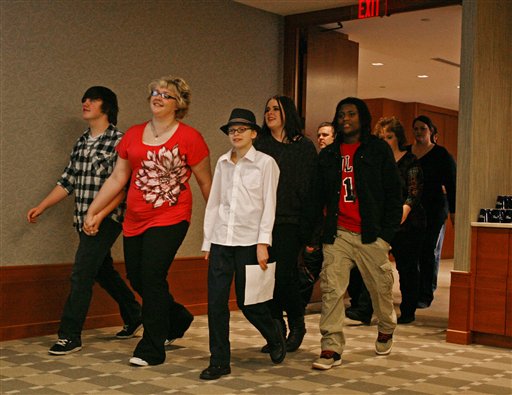 In what federal officials are calling a national model, the Anoka-Hennepin School District in Minnesota has reached an agreement regarding harassment based on sexual orientation. The district has been under investigation by the Department of Justice and Department of Education since 2010. Civil rights allegations described the schools in the district as unsafe for gay, bisexual and transgender students.
Six students filed suit in federal court in July, 2011 alleging various incidents of negligence by the administration. The charges are described below from the complaint filed with the court. Mainly, the district's policy directing teachers to remain neutral on any questions involving sexual orientation was challenged. Teachers said this hampered their ability to support gay students and contributed to a hostile climate at school. The federal government and attorneys for the students praised them for their courage in going public with the case.
Kyle Rooker, age 15, was one of the plaintiffs.  He explained that he was called names, shoved, and once urinated on in a bathroom because of his flamboyant style. Kyle commented "I'm glad that kids coming up behind me won't have to suffer the way I did." The school district agreed to sweeping changes in addressing harassment and will be monitored by the federal government for the next five years.
An 18-year-old lesbian student who dropped out of Anoka High School in October 2010 after being harassed alleges that the harassment began when she was in 10th grade, when a photo of her and her girlfriend was distributed with text that said in part, "she's a lesbian — if she's rooming with you, she might try something." Verbal and physical abuse continued, and at most teachers told other students to "knock it off." After dropping out, she tried to kill herself.
A 14-year-old boy who has been perceived as gay by other students alleges that school officials responded to the harassment by further isolating him from other students rather than responding to the harassment. The student says he was pushed down the stairs and urinated on because of the way he dressed. He transferred out of Anoka Middle School for the Arts in April 2011.
A teen gay student says he suffered harassment at three different schools in the district. The student repeatedly reported the incidents to school officials but the harassment continued. School officials eventually recommended to his parents that they transfer him to an alternative school.
A bisexual student who will attend Champlin Park High School in the fall said she reported harassment against her to school officials at Fred Moore Middle School at least 30 different times to little or no effect. The harassment led to mental health issues, and the student sought treatment at a full-time outpatient program.
A student said he has been repeatedly harassed; he was perceived as gay by other students because his fathers are gay and because he participates in gymnastics. The student, who plans to attend Champlin Park High School in the fall, reported the harassment and physical abuse but claims school officials have not done enough to stop it.
Five of the students spoke at a news conference from one of their attorneys office shortly following the settlement in March, 2012. Kyle commented that "I've learned how to be me, and I think that is the most important thing that a person has. I don't let others tell me what to do or who to be anymore."
Schools across the country would be wise to look at this case as an example of how to deal with harassment and bullying on campus and at school events. Oversight by the government should not be necessary when common sense is applied to creating a hostile-free environment so learning can take place.
Update: In August, 2013, California passed a bill allowing transgender students to choose which sports teams (male or female) they wish to participate in as well as which bathrooms they prefer to use. Other states, including Massachusetts, Colorado, Connecticut and Washington have policies recognizing the rights of transgender students.
Find great resources in our
---