Should accused taggers be prohibited from hangin' together in public?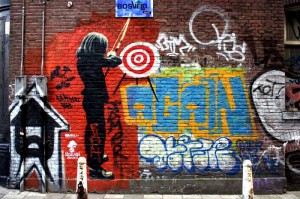 According to the Los Angeles City Attorney's Office, the answer is yes. 
As a way of addressing the city's graffiti problem, the city attorney wants the police to have the power to arrest those who have been accused of tagging for simply hanging out in public together.  This would allow the police to arrest alleged taggers without having to catch them in the act.  The city attorney is hoping to use "injunctions" to fight the battle against graffiti and allow officers to make such arrests.
Injunctions are like lawsuits brought on behalf of the public and may criminalize conduct not normally criminal.  A civil injunction may stop a school from enforcing a rule that's being challenged until it's settled in court. Examples of injunctions include prohibiting certain clothes being worn and hand signs being made in public.  Some injunctions allow the police to arrest two alleged gang members from associating in public.
The American Civil Liberties Union is saying that this proposed injunction is clearly unconstitutional.  Critics of injunctions believe that juveniles on the edge of the criminal justice system are pushed into the system by criminalizing such conduct rather than helping kids stay out of the system.
Do you think it should be illegal for accused "taggers" to associate in public?  Why or why not?  If no, what might be a better way to crack down on the graffiti problem in cities like L.A.?
Find great resources in our
---