Should cheerleading be considered a sport for Title IX purposes?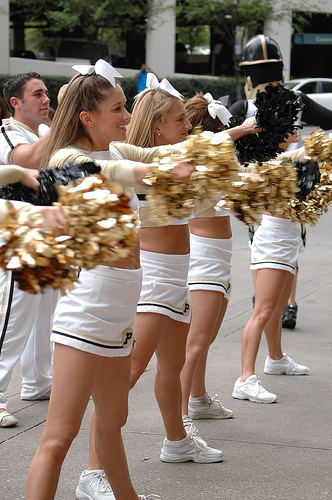 A federal court in Connecticut is taking on this question as a result of a lawsuit filed by 5 female volleyball players and a coach from Quinnipiac University. The lawsuit was filed after the school cut their sport in favor of a competitive cheer squad to save more than $32,000 a year. It has become a class action lawsuit which means that all present and future female students at the university are part of the class that will be affected by the outcome of the case.
Title IX is the federal law requiring equal opportunities for men and women in school athletic and other extra-curricular  programs. The university in this case is arguing that the cheer squad meets the requirements of Title IX. However, opponents argue that cutting an athletic team for one that is not nationally recognized as an actual sport is about saving money while inflating the Title IX numbers that must be reported to the federal government.
Title IX standards for what counts as a sport when providing equal opportunities in athletics includes the following: the program must have a defined season, a governing organization and competition as its primary goal. The National Collegiate Athletics Association (NCAA) does not recognize competitive cheer as a sport. In addition, cheer does not appear to have a governing body, although Quinnipiac University has joined with seven other schools to form the National Competitive Stunts and Tumbling Association intending to create a governing body. In order for this newly formed association to be recognized as a legitimate governing body, four more schools must join.
Update:  In July, 2010, the federal court ruled that cheerleading is not a sport that meets Title IX requirements to meet gender-equity requirements.  The judge stated that "Competitive cheer may, some time in the future, qualify as a sport under Title IX. . . .Today, however, the activity is still too underdeveloped and disorganized to be treated as offering genuine varsity athletic participation opportunities for students." In August, 2012, the Second Circuit Court of Appeals in New York agreed with the lower court ruling that collegiate cheerleading is not a sport that comes under Title IX protection.
Do you believe that competitive cheer should be considered a sport? Why or why not? What if Quinnipiac cut its men's volleyball team in favor of a men's cheer squad? Would that make any difference? Does it still provide an equal opportunity in athletics when trying to balance the numbers? Is Title IX effective in providing equal opportunities in school athletic programs?
Find great resources in our
---