Should James Tate be allowed to go to prom?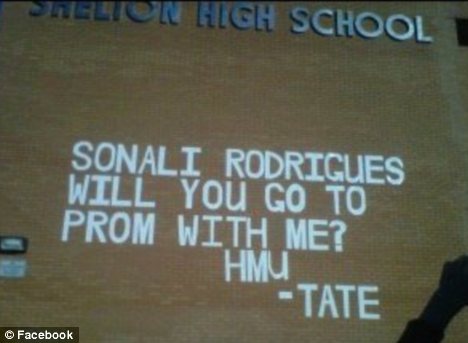 James Tate is a senior at Shelton High School in Connecticut. He's an Advanced Placement student  with no disciplinary record. He wanted to do something special for his good friend when asking her to the prom. Unfortunately, his creativity wasn't appreciated by the principal.
James and two of his friends posted twelve inch high cardboard letters on the school's outside wall which read, "Sonali Rodrigues Will you go to the prom with me? HMU -Tate". (For all of you non-teens out there, HMU means "hit me up.") Although Sonali was happy with the invite and said yes, the school administrators were not too pleased with the stunt which they claim posed a safety risk. All three were given one day in-school suspensions and banned from the prom. They were also told that they were trespassing since this happened when the school was closed.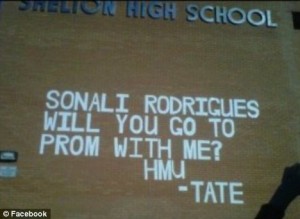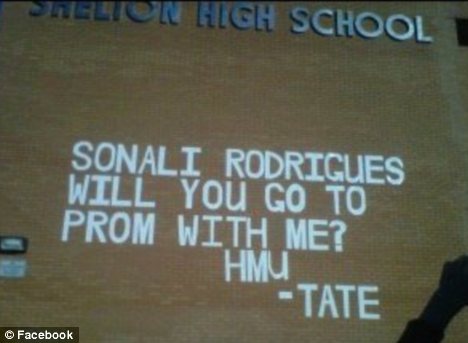 James was quoted saying: "I'm a jerk, you know, because I was telling her for the longest time I was going to go with her. But you know, I was waiting for a special time, a special way to ask her. And I did that and this is what happened."
As for the safety issue, James believes he posted the letters in a "safe and thoughtful way." His two friends assisted by one of them holding the ladder while the other put double-sided tape on the letters. James wore a helmet while posting the letters to the wall. He also stated that they never went into the school and therefore were not trespassing. Although the front gates were locked during the early morning hours on Friday, they were able to use a footpath to get to the wall where they posted the message.
A Facebook page supporting James called Let James Tate Go to the Prom already has over 100,000 likes.
Tell us what you think about this and whether the school administrators should let James go to prom. Assuming James broke a school rule, what discipline do you think is appropriate? Do you think barring him from his senior prom fits the situation? Remember this also affects Sonali who hopes the school will reverse its decision so she won't have to go to the prom alone.
In 1992, the Supreme Court stated: "Everyone knows that, in our society and in our culture, high school graduation is one of life's most significant occasions."* Although James may be missing his prom and not graduation, can't the same argument be made that senior-prom is a once-in-a-lifetime event?
James appeared on the Today Show on May 12, 2011 and explained what happened. You can watch it here. Later he and Sonali appeared by Skype on the Jimmy Kimmel Show here and were good sports about his kidding around about the incident. On a more serious note, Headmaster Beth Smith announced that the discipline remains. She explained that it is well-known throughout the school that any infractions after April 1 result in a ban from the prom.
Although this won't help James and Sonali, legislation was introduced this week in the Connecticut legislature to limit school discipline to community service hours for students approaching prom time. If passed, this would be more in line with what the Supreme Court had in mind.
*Lee v. Weisman (USSC 1992) regarding prayer in public schools.
Find great resources in our
---