Student journalists test free expression law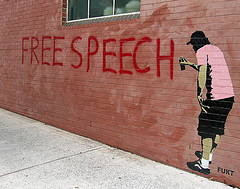 In February, 2013, The Bruin's Voice was halted for a brief period by the principal of Bear Creek High School in California. Mikala Bussey wrote an article for the paper titled "Outdated safety plan leaves some wondering: how safe is BC?"
The principal told the newspaper's staff that she wanted to run the paper by her superiors before allowing it to be distributed which was scheduled for the next day. She was concerned about possible disruption on campus by what she said were misleading statements and inaccurate quotes in the article by "some employees who currently are unhappy in their positions for a variety of reasons."
The newspaper staff was well aware of their rights under California's Student Free Expression Law (Education Code Section 48907). A handful of states have laws that protect student expression in newspapers, theater, yearbook and other productions. They wrote a letter to the principal referencing the law and several court decisions in support of their rights. School administrators do have a right to pull a paper or censor student works if a clear and present danger of disruption exists to the student body or overall campus. It's a fine line that must be adhered to in the interest of free speech.
Part of California's law that came into play here reads:
(d) There shall be no prior restraint of material prepared for official school publications except insofar as it violates this section. School officials shall have the burden of showing justification without undue delay prior to a limitation of pupil expression under this section.
This incident lasted a few hours before the principal told the students they could proceed with the next day's distribution. Once set out around campus and distributed, no disruption occurred. The law also provides protection for teachers and school personnel from retaliation for the expression of their students.
Find great resources in our
---