Supreme Court to review questioning of 9-year-old at school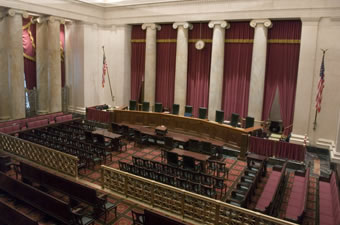 In 2003, an Oregon father was arrested for sexual abuse of an unrelated 7-year-old boy.  A week later a social worker from child protective services and a deputy sheriff went to the school where two daughters of the father attended.  Suspecting that one of the girls, age 9, had been sexually abused at home, she was interviewed for up to two hours.
The interview was conducted without a warrant, court order, parental consent, or what is called "exigent circumstances" (exigent meaning a demanding, immediate or crisis situation).  The investigation resulted in sexual abuse charges against the father, although they were eventually dismissed.  He later pled guilty to charges stemming from abuse of the young boy.
The mother of the girls sued* the caseworker and deputy sheriff for violating her daughter's Fourth Amendment right to be free from an unreasonable search.  In December, 2009, the Ninth Circuit Court of Appeals ruled in her favor holding that the interview at school did not comply with the requirements of the Fourth Amendment.
The appellate court applied a test used in criminal cases under a 1985 Supreme Court decision. The court further ruled that the caseworker and deputy could not be held accountable because they were not school officials.  The decision was appealed and the U.S. Supreme Court decided in October, 2010 to hear the case.  A decision is expected in 2011. Oral argument is scheduled for March 1, 2011.
The benchmark case regarding search and seizure at school is New Jersey v. T.L.O. (1985).  In T.L.O. the Supreme Court held that a search of a student or student's property at school must be supported by a "reasonable suspicion" that the student has broken a law or school rule. The decision did not extend to other adults who might come into contact with a child at school such as a police officer or social worker.
Although T.L.O. involves a criminal case, the issue regarding interviewing children at school in civil investigations has not been addressed by the Supreme Court.  Since Child Protective Services exists in every state, interviewing children at school, where they are in a neutral setting, is a common practice.  The question is whether proper procedure was followed in this case since it involves young children interviewed for a lengthy period without a parent (mother) or neutral person present.  Obviously the alleged perpetrator wouldn't be present, but the other parent could have been if only notified.
Update: In May, 2011, the Supreme Court dismissed the case as moot. This is because the child affected, S.G., is now a senior in high school and will therefore not be subjected to such an investigation again. Furthermore, she lives in Florida, outside the jurisdiction of the Ninth Circuit Court of Appeals. The Court stated that when "subsequent events make it absolutely clear that the allegedly wrongful behavior could not reasonably be expected to recur, there is no live controversy to review."
*Camreta v. Greene, 131 S.Ct. 2020 (2011).
Find great resources in our
---