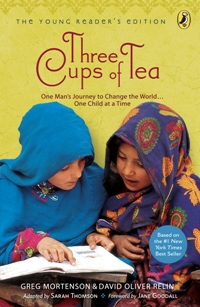 "Three Cups of Tea" by Greg Mortenson and David Oliver Relin (2006)
This is the story of an American hiker who became a one-man Peace Corps for the 21st century. Greg Mortenson's persistence and humanitarian efforts brought education to remote areas of the world.
Greg was a skilled and fit climber. He had climbed Mt. Kilimanjaro in Africa when he was 11.  At six feet four inches and over 200 pounds he went on to play college football.  At age 35 he found himself on an expedition to summit K2 in 1993.  Located on the border of China and Pakistan, K2 is the world's second highest peak at 28,251 feet.  (Mt. Everest is the highest at 29,035 feet in Nepal and Tibet).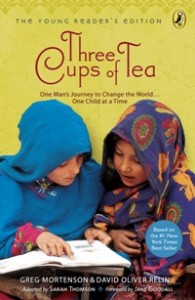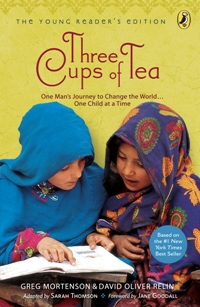 He was injured while on the trip and was nursed back to health in a small village in the rugged mountains of Pakistan.  He was struck by the generosity of the people and their leader in Korphe.  He noticed that the children sat outside in a makeshift classroom without books or a teacher.  Greg promised the tribal leader that he would return and build them a school.  He commented that these people were hard not to love once you got to know them.
Greg kept his promise.  He returned to California and began his fundraising efforts.   Over the next decade he founded the Central Asia Institute and built over 50 schools in Pakistan.  The Institute also provides health care and clean water to the villages.  His success is based on his relationship with the local people and Muslim leaders.
A village chief explained that in Pakistan and Afghanistan the custom before doing business with anyone is to drink three cups of tea.  During the first cup, you are strangers.  With the second cup, you become friends.  And by the third cup, you are regarded as family–"and for family we are prepared to do anything–even die."  (Haji Ali, Korphe Village Chief)
Greg Mortenson is family to thousands of Muslims in small villages and refugee camps.  His second book, "Stones into Schools"  (2009) continues his ventures into Afghanistan. Subtitled "Promoting Peace with Books" sums up his mission to these families.
Update:  In April, 2011, the news program "60 Minutes" aired a story about Mortenson and the Central Asia Institute. Some of his claims in Three Cups of Tea have been questioned and his foundation's finances are under review by the authorities. We continue to recommend his book as an uplifting, inspiring story on the abilty to make a difference in the lives of children. Whether the reader decides to contribute to the Central Asia Institute or its "Pennies for Peace" fund is left to the donor to decide.
Find great resources in our
---