Talent search begins for high school cyber-warriors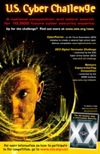 Interested in working for the FBI or the Defense Department?  The federal government has just launched a national talent search for high school and college students with cybersecurity skills.  Promising candidates will attend regional camps at local colleges beginning in 2010.  The top applicants will be offered jobs from a number of government agencies.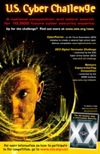 The U.S. Cyber Challenge is in search of 10,000 young Americans to become "cyber-guardians" and "cyber-warriors."  The government recognizes that it is deficient in protecting its networks and is vulnerable to Internet attacks.
The search consists of three competitions:  Cyber Patriot conducted by the U.S. Air Force; a Digital Forensics Challenge; and NetWars, a vulnerability discovery and exploitation competition.  For details about participating in the U.S. Cyber Challenge, go to:  www.csis.org/uscc
Update: The Cyber Challenge winner was 21 year old Chris Benedict of Nauvoo, Illinois. Congratuations Chris!
For more about Internet employment and cyber-safety, see:  http://askthejudge.info/hackers-beware-new-federal-cyber-office-created/1651/  and
http://askthejudge.info/wanted-hackers-to-work-for-federal-government/345/
Find great resources in our
---