Teen "accomplice" will serve at least 25 years in prison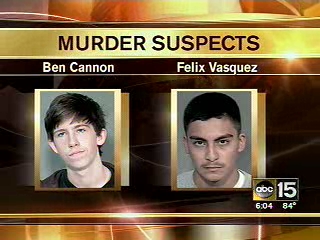 Sixteen year old Benjamin Cannon and his friend, Felix Vasquez, wanted to score some marijuana. They knew where to get it but were without transportation to get there. So they decided to steal a car.
Close to midnight, Benjamin laid down in the street in Buckeye, Arizona pretending to be injured. When off-duty corrections officer, Bradley Gerrard (age 28) drove by, he stopped to help. When he got out of his car on his way home from the store, he was shot in the chest and died. Felix was charged with the murder of Gerrard and awaits trial.
In November, 2009, Benjamin was found guilty of murder although he didn't pull the trigger. In Arizona, as in other states, an 'accomplice' is equally responsible for the crime committed. Arizona law defines accomplice as a person who "aids, counsels, agrees to aid or attempts to aid another person in planning or committing an offense." * Furthermore, "A person is criminally accountable for the conduct of another if the person is an accomplice of such other person in the commission of an offense."**
Benjamin was sentenced in January, 2010, to prison without being eligible for parole until he serves 25 years. The victim left a wife and two young sons. At sentencing, the judge told Benjamin that although he and others involved in the prosecution of the case may not be around in 25 years to appear at his parole hearings, "two men in their 20s will show up and you'll have to look into the eyes of two young men whose father you took away."
*Ariz. Revised Statute 13-301
**Ariz. Revised Statute 13-303
Find great resources in our
---