Teens are town's first responders
Darien, Connecticut is a town of approximately 20,000 residents. Since 1970, it has looked to its teenagers for help in emergency situations. It started when a group of parents wanted to teach their children about the devastating effects of drug and alcohol abuse.
In 1970, Explorer Post 53 was founded by John "Bud" Doble and others. The Explorers are part of the Boy Scouts of America. Initially the volunteer teens provided back-up support for a drug outreach clinic and the town's ambulance service. By 1985, the Post became the town's 24-hour first responder and emergency ambulance service. Soon Post 53 was handling over 1,000 calls a year.
Teen volunteers, called "posties," begin at age 14 at the beginning of high school. The four-year program accepts approximately 20 new members each year. They progress through five roles including Candidate, Radio Roomie, Rider, state-certified EMT, and then Driver.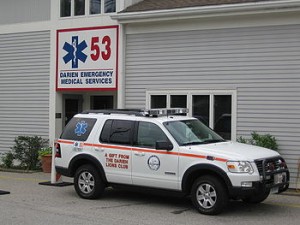 Training takes the posties through 25 hours of First Aid/CPR and three months of mentored observation and participation in Post activities. Then the adult members of the Post vote on the candidates for full membership. Statistics show that one out of ten applicants is accepted into the program.
Those accepted continue their training in order to attain a position in the radio room, as an ambulance driver/rider or crew chief.  An EMT requires 150 hours of training before becoming eligible under state law to take the basic level Emergency Medical Technician exam at 16.
Once certified, the teens operate the Post everyday of the year. They sleep overnight in dormitory rooms. Relief is available during school hours. Each teen serves at least two 24-hour shifts a month. Their duties include maintaining the ambulances and the building, raising money, and providing first-aid training. Adult volunteers also work with the teens. The Post relies on fundraising and donations to keep its doors open. Medical and ambulance  services to local residents is free.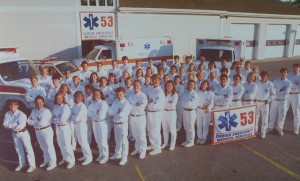 Darien's Post 53 is believed to be the only teen run and staffed ambulance service in the country. Congrats, posties – keep up the great work.
Find great resources in our
---