Text Messaging While Driving – a $400.00 Ticket!!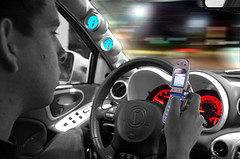 That's right.  A new law was passed this week in Phoenix, Arizona outlawing Text Messaging While Driving [TWD].  A total fine of over $400.00 may be ordered for anyone caught breaking the law.  Later attempts to pass a state law failed. Many argue that there are already laws that cover distracted driving and there's no need for a texting law.
California and Washington have laws restricting TWD that go into effect in 2008.  Many other states are considering similar legislation.  Many cars, as you know, now offer hands-free systems including BlueTooth or controls and speakers on the steering wheel and visor.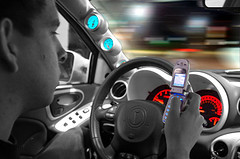 The first texting citation in Arizona was given to 21-year-old Bogdan Ciutac of Phoenix on November 5, 2007.  The minimum fine is $194.00 – the court decides the penalty and fees.   Bogdan wasn't pulled over for speeding or DUI – the officer caught him texting while driving.
Update:  In April, 2012, the city of Tucson, Arizona passed a law prohibiting TWD. A fine of $100.00 is the penalty and $250.00 if you crash while texting.
Recent tragedies across the country have other states considering similar legislation to curb the use of cellphones and other devices when behind the wheel.  In August, 2007, 18-year-old Ashley Miller crossed the center line while texting, killing herself and another driver.  In June, 2007 a head-on crash in New York killed five teenagers who had just graduated from high school.  Seconds before the accident, the 17-year-old driver, Bailey Goodman, sent a text message on her cellphone.
What do you think of these laws and new restrictions on drivers? Are the penalties harsh or too lenient?  Share your thoughts on this important subject with others.
Find great resources in our
---