The No. 1 Ladies' Detective Agency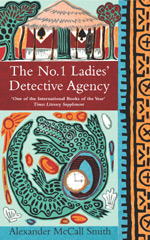 "The No. 1 Ladies' Detective Agency" by Alexander McCall Smith (1998).
Precious Ramotswe was a traditionally built woman in Gaborone, Botswana.  She had an abundance of intuition and intelligence.  When her father died, leaving her enough cattle to sell for a tidy sum, she opened a detective agency "to help people with problems in their lives."  It was the country's first detective agency owned and run by a woman.
The No. 1 Ladies' Detective Agency [For All Confidential Matters and Inquiries] operates from a small office with two desks, two chairs, a telephone and an old typewriter.  It also boasts a teapot for the daily ritual of brewing redbush tea.  Follow Precious with her first clients as she ventures out to track down a missing husband, uncover a con man, and follow a wayward daughter.  Her biggest challenge comes when an eleven-year-old boy goes missing.
Described as smart, sassy and touching, the series continues with:
Tears of the Giraffe
Morality for Beautiful Girls
The Kalahari Typing School for Men
The Full Cupboard of Life
In the Company of Cheerful Ladies
Blue Shoes and Happiness
The Good Husband of Zebra Drive
The Miracle of Speedy Motors
Tea Time for the Traditionally Built
The Double Comfort Safari  Club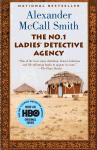 This is a series that will stick with you for years to come.  Author Alexander McCall Smith is a professor of medical law in Edinburgh, Scotland.  He was born in what is now known as Zimbabwe and taught law at the University of Botswana. You may also get hooked on some of his other stories placed in Scotland and elsewhere.
"The more that you read, the more things you will know.  The more that you learn, the more places you'll go."  Dr. Seuss
Find great resources in our
---