Theodore Boone, Kid Lawyer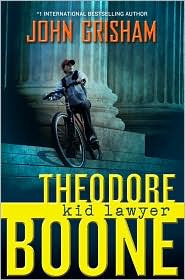 "Theodore Boone, Kid Lawyer" by John Grisham (2010).
Since you're on this website, we assume you have some interest in the law.  That is why we selected a book this month about a 13-year-old, eighth-grader who is fascinated with all things legal.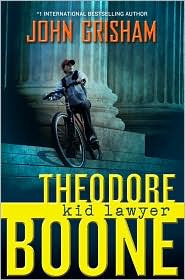 Theodore Boone's parents are lawyers — his father practices real estate law while his mother is in family law.  Theo is more interested in criminal cases and spends a good deal of his time in and around the courthouse.  He has even created an "office" for himself in his parents Boone & Boone law firm.
Theo knows most of the judges, lawyers, court staff and police in his small town.  He is known as the kid who thinks he's a lawyer -even by his classmates who often impose on him to solve their problems.  He hasn't yet decided whether he'll be a famous trial lawyer or a judge.
The town's first murder trial in years is scheduled to start before a jury.  The death of 49-year-old Myra Duffy has everyone talking.  Her husband has been charged with killing her.  Theo knows something and he's torn between speaking up and keeping silent.  Either way he goes has serious consequences for others.
Between school, girls and the trial, Theo has little time to do much else.  However, he finds time to help classmates and their parents with advice about  legal matters in their lives. Of course, he can't charge them – at least not for a few more years.
Mr. Grisham explains the law and judicial process by weaving it into the story.  You'll gain a respect for the process and an understanding that ethics and morals play a role in our lives.  One sentence in particular sums up the book's message:  Theo ". . .wasn't committing a crime by hacking into the court reporter's site, but there was definitely something wrong with it."
Author, John Grisham, has written many books. Most are novels with  a legal theme and many have been turned into movies. His first nonfiction work was "The Innocent Man – Murder and Injustice in a Small Town" (2006). Mr. Grisham started his career as a criminal defense attorney in Mississippi and served in the Mississippi House of Representatives.
We hope this is the beginning of a new series. We'd like to follow Theo through law school and into his own practice.  For more about Theo and the law, take a look at www.theodoreboone.com.
Find great resources in our
---