This 12-year-old understands the First Amendment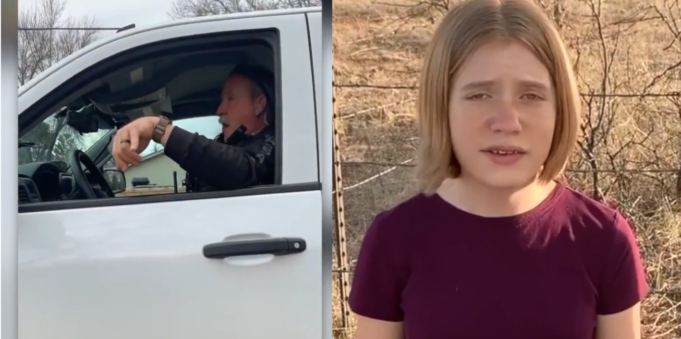 How many of you, when confronted by a police officer, would talk back or question the officer? How many 12-year-old kids know enough about the First Amendment to stand up to and attempt to correct a cop? We think very few of us would act so bravely, especially when threatened with jail for speaking up.
Hilde Kate Lysiak is the exception. A 12-year-old kid reporter from Pennsylvania has learned the ropes from her father, a journalist. Hilde is the editor of the Orange Street News and has been covering local issues since she was eight. She is, in fact, an official reporter and the youngest member of the national Society of Professional Journalists.
On a visit to Patagonia, Arizona (near the Mexican border) in February, 2019, Hilde came into contact with town marshal Joseph Patterson. The marshal was driving when he noticed Hilde following him on her bike. He stopped her and asked for her identification. Hilde gave her name and said she was a reporter. The marshal told her "I don't want to hear about any of that freedom of the press stuff." He later told her not to put his picture on the internet or she'd be breaking the law and would be arrested and taken to juvie.
In fact, it is not against the law to videotape the police in Arizona or to post the video online. However, if ordered by law enforcement to do something or not do something and you fail to follow such an order, you may have broken the law. It's tricky, but the exact details of an incident will determine if a law has, in fact, been broken.
In this case, Hilde was right. She didn't get in the way of any police incident or obstruct an ongoing investigation. She simply filmed and took audio of her encounter with the marshal. A few days later, the Patagonia mayor and town council apologized to Hilde and the marshal was disciplined, although details were not made available.  The town's public statement read: "We are sorry, Hilde. We encourage and respect your continued aspirations as a successful reporter. We believe and fully support the constitutional right to freedom of speech in the public sector."
You can watch Hilde's meet-and-greet in Patagonia on OrangeStreetNews's YouTube account here: https://youtu.be/3AQpst6WdOI
Find great resources in our
---