What do you say to your younger brothers, sisters, nieces and nephews about death & violence?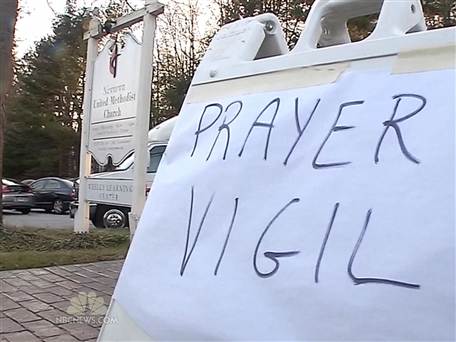 The tragic loss of lives on December 14, 2012 at a Connecticut Elementary School has left us saddened and dumbfounded. As you have seen on television and the Internet, people who are paid to talk for a living such as reporters and journalists are without words, only tears, in bringing us this story. Even the President was emotional in his comments to the country Friday afternoon.
If you have missed the news in the past twenty-four hours, a capsule version of the event is this: in Newtown, Connecticut at the Sandy Hook Elementary School for kindergarten through 4th-grade children, a gunman entered the school Friday morning. Armed with several guns, he went to the principal's office where he allegedly shot and killed her, the school psychologist and other adults. He then went to two classrooms where he shot the teacher and twenty children who were six and seven years old. Eighteen children died at the scene and two others at a hospital. The shooter then took his own life. At some point this same morning he shot and killed his mother who lived nearby.
How do you talk about this tragedy with younger siblings and other family members? How do you explain such a horrific act by one individual? How do you reassure your little loved ones that they are safe and not to worry about going to school or even outside? Scholastic sent out the message below with a few links to expert advice on the subject. We recommend our readers to take a look at this and share the information with others. We have to take care of our children now and not put off these conversations that can help them through a difficult time in their lives.
 
 
Dear  Teachers: In light of today's tragedy at an elementary school in Newtown, Connecticut, we wanted to provide you with reliable resources that can help you discuss a difficult topic like this with children. Please pass these resources along to parents at your school and in your community who may need help talking to their kids about today's event.
"Talking to Your Kids About Natural Disasters, War, and Violence" is a Scholastic article that offers advice from a child-development expert about how to talk with kids about violent, disturbing news.
"Talking to Children About Community Violence" is a tip sheet from the American Academy of Child & Adolescent Psychiatry about how to handle discussions with kids about violence in local communities.
Click   here for Scholastic News Online's age-appropriate coverage of the tragedy in Connecticut.
We hope these resources are helpful at this difficult time.
Sincerely,
Scholastic Classroom Magazine Editors
Find great resources in our
---