What is a will? Can I write one for myself?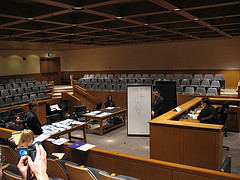 Because of your age and active life, the idea of a will or inheritance may be the last thing on your mind. There′s always the possibility, however, that you may be on the receiving end of a will (as a beneficiary).You may also own property that you would like to leave to someone if you die.
If your mother or father is a state senator in the state of New York, they may leave their senate seat to you in their will—not the office itself, but the chair they used while in office. Otherwise, you may buy it for $25.
A will, or last will and testament, is a written statement indicating what will happen to your property after you die. In most states you have to be eighteen to write a will, but it′s something to think about before your eighteenth birthday. Property includes anything you own: clothes, games, books, savings bonds, money, or a car. If it′s legally yours, you have the right to give it away.
There are two ways your property passes to someone else:
• If you have a will when you die, then you′re testate which means the directions stated in your will must be followed. You can leave your property to anyone or any organization or cause—it′s entirely your decision. As long as your directions are legal and not against public policy, the law requires that your wishes must be carried out.
• If you die without a will, you′re intestate, meaning the inheritance laws of your state apply. These laws spell out where your property goes—usually to family members. As a last resort, when there are no family or extended family members (brothers, sisters, aunts, uncles, or cousins), the property goes to the state.
You don′t have to hire a lawyer to prepare your will. You may write it yourself in your own handwriting (a holographic will), or you can buy a standard form will at a stationery store. If you have a lot of money or property, it′s advisable to speak with a lawyer about your wishes, but it′s not required.
You may have heard the word probate. This is the legal process, through the court, of handling a person′s property after death. Probate courts are responsible for supervising the distribution of the property, paying the debts that exist, and seeing that the interests of the people, organizations, and causes named in the will (if there is a will) are protected. It′s not always necessary to involve the court –  each case is unique. Check the laws in your state.
Find great resources in our
---