When can my school discipline me? What is corporal punishment?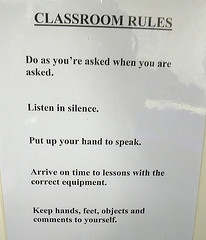 At the beginning of the school year, you may be given a copy of the school′s rules regarding what′s expected and the consequences for noncompliance. When you break a school rule, you may face civil or criminal action or both.
Civil action, in the context of school behavior, means the school may discipline you. It can′t lock you up or give you a criminal record, but the consequences may include suspension or expulsion.
If what you did also violates the criminal laws of your state, you may be charged with a crime (or delinquent act). This means you′ll have to go to court and may end up on probation. This may seem unfair, since you get punished by the school and again by the court. But this has been determined appropriate, with no violation of your constitutional right against double jeopardy (double punishment for the same offense).
If you′re sent home, suspended, or expelled for disruptive behavior, your parents will be notified. You′re entitled to due process, meaning you have a right to be heard. You and your parents may meet with the principal to discuss your behavior and the consequences the school has imposed. This doesn′t happen for every infraction—usually only those that carry serious penalties and inclusion in your school record. You may also be entitled to a hearing.
What is corporal punishment?
"The use of corporal punishment in this country as a means of disciplining school children dates back to the colonial period. . . . Teachers may impose reasonable but not excessive force to discipline a child."
—U.S. Supreme Court in Ingraham v. Wright (1977)
Corporal punishment (swats or paddling) may be permissible in your school, as long as it′s not excessive. Physical discipline isn′t prohibited by the U.S. Constitution, but it may be limited by state law or school policy. A reasonable amount of force may be used by school officials to break up fights, prevent damage to the school, take weapons from a student, or act in self-defense.
States that allow corporal punishment
Click here to see which states are still paddling students and how many students receive corporal punishment in that state during the school year. In March, 2011, New Mexico banned the practice in schools. Some states, Texas and North Carolina, for example, give parents the choice of opting out their children from corporal punishment.
Update: A study released in August, 2008 reported that there were 223,000 incidents in U.S. public schools during the 2006-2007 school year where students were paddled or swatted. These occurred in the states that still allow corporal punishment at school (Human Rigths Watch and ACLU).
A report in 2016 from the federal government's Civil Rights Data Collection indicates the during the 2011-2012 school year, approximately 163,000 children were subject to corporal punishment. Nineteen states still allow physical discipline including Alabama, Arkansas, Arizona, Colorado, Florida, Georgia, Idaho, Indiana, Kansas, Kentucky, Louisiana, Missouri, Mississippi, North and South Carolina, Oklahoma, Tennessee, Texas and Wyoming. This is a decline in total numbers over the past three decades.
Courts use the following test to determine if the discipline used at school was reasonable and not cruel or excessive:
• the student′s age and maturity
• the student′s past behavior
• the instrument used for discipline
• the motivation of the disciplinarian
• the availability of less severe discipline options.
A federal court suggested the following guidelines for school authorities using corporal punishment:
• Students must be given advance notice as to what behavior merits corporal punishment.
• Corporal punishment must not be used for a first offense.
• A second school official must be present when the punishment is carried out.
• A written statement about the incident, punishment, and witnesses must be given to the parent.
It′s against the law to insult or abuse your teacher. Because of their special position in the community, teachers are given extra protection under the law. Hitting a teacher is a serious crime (aggravated assault) and carries an increased penalty, including probation, community service hours, fines, and/or time in detention or a state juvenile institution.
School officials are authorized to discipline students for swearing or making obscene statements or gestures. Although you have the right of free expression, it′s not without bounds. The U.S. Supreme Court has held that if your activity is "materially and substantially" disruptive to normal school functions, or if you infringe upon the rights of others, restrictions may be imposed. Students should respect all school personnel and expect their respect in return.
Unless you′re a student, you may not be permitted on school grounds or in a classroom without permission. Interfering with a class may result in charges and penalties for disorderly conduct and trespassing.
He who opens a school door, closes a prison."   -Victor Hugo, French writer and poet (Les Miserables (1862) and The Hunchback of Notre Dame (1831)).
Judge Tom discusses the legality of corporal punishment and the state laws that allow teachers to use physical discipline against students.
Find great resources in our
---