What states allow gays & lesbians to marry?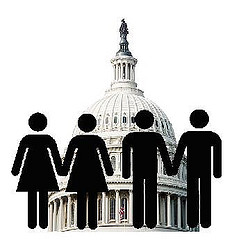 Update: On June 26, 2015 marriage equality in America became a reality. The Supreme Court ruled  5 to 4 in Obergefell v. Hodges that gay marriage is legal nationwide, not just in those states that had already legalized such. The bans in a dozen states no longer have any legal effect. You can read the history of the movement below starting with the first state to allow gay marriage in 2004.
Before the Supreme Court ruled in June, 2015, we maintained the following list of states that legalized gay marriage.  We provided the year the law went into effect, the name of the law when titled by the state legislature, and a citation where the law can be found. Some states didn't pass a gay marriage law. Instead a court determined that the existing law prohibiting gay marriage was unconstitutional. In those states, we list the name of the court decision and citation for the case. If you want to read the court's decision, ask a reference librarian at your public library for help or Google the full name of the case.
On June 26, 2013, the U.S. Supreme Court ruled that the federal Defense of Marriage Act (DOMA) violated the Fifth Amendment and was therefore unconstitutional (United States v. Windsor, 133 S.Ct. 2675 (2013). The Act applied to federal employees regarding federal benefits.
Alabama: (2014) Strange v. Searcy (U.S. District Court – southern district)
Alaska: (2014) Latta v. Otter (9th Circuit Court of Appeals)
Arizona: (2014) Latta v. Otter (9th Circuit Court of Appeals)
California: (2013) Family Code Section 300.
Colorado: (2014 )
Connecticut:  (2008)  Kerrigan v. Commissioner of Public Health, 957 A.2d 407 (2008).
Delaware: (2013) 13 Delaware Code 101
District of Columbia:  (2010)  D.C. Law Section 18-110, "Religious Freedom and Civil Marriage Equality Act," Jackson v. D.C. Board of Elections and Ethics, 130 S.Ct. 1279 (2010).
Hawaii: (2013) Section 572-1: Requisites of a Valid Marriage
Idaho: (2014) Latta v. Otter (9th Circuit Court of Appeals)
Illinois: (2013) 750 ILCS 5/212
Indiana: (2014) Wolf v. Walker (7th Circuit Court of Appeals)
Iowa:  (2009)  Iowa Law Section 595.2, Varnum v. Brien, 763 NW2d 862 (2009)
Kansas: (2014) Marie v. Moser (U.S. District Court)
Maine: (2012) 19-A Maine Revised Statutes Annotated 650-A
Maryland: (2012) Civil Marriage Protection Act of 2012, Family Law 2-201
Massachusetts:  (2004)  Goodrich v. Department of Public Health, 798 NE2d 941 (2003).
Minnesota:  (2013) Minnesota Laws Section 517.01
Montana:  (2014)
Nevada:  (2014) Sevcik v. Sandoval
New Hampshire:  (2011)  Revised Statutes Annotated 457:1-a, "Equal Access to Marriage."
New Jersey:  Garden State Equality v. Dow (Mercer County Superior Court).
New Mexico:  (2013) Griego v. Oliver, New Mexico Supreme Court, December 19, 2013.
New York:  (2011)  Domestic Relations, Section 10-a and 10-b, "Marriage Equality Act."
North Carolina: (2014)
Oklahoma: (2014)
Oregon: (2014)
Pennsylvania: (2014)
Rhode Island: (2013) Domestic Relations, Section 15-1-1
South Carolina: (2014)
Utah: (2013) Kitchen v. Herbert
Vermont:  (2009)  15 Vermont Statutes Annotated Section 8, "An Act to Protect Religious Freedom and Recognize Equality in Civil Marriage."
Virginia: (2014)
Washington:  (2012)  Washington Revised Statutes Section 26.04.010 and 26.04.020.
West Virginia: (2014)
Wisconsin: (2014) Wolf v. Walker (7th Circuit Court of Appeals)
Wyoming: (2014)
It should also be noted that some gay Native-Americans are allowed to marry on tribal lands. It's entirely up to each sovereign nation to set their own laws for members and on tribal reservations. This includes the Cheyenne Arapaho Tribes in Oklahoma, the Coquille Tribe in Oregon, and the Little Traverse Bay Bands of Odawa Indians in Michigan. The Supreme Court decision in Obergefell in 2015 does not affect Native-American tribes.
There are growing number of countries that have legalized gay marriage. This includes Ireland, France, England, Wales, New Zealand, Uruguay, Canada, Spain, Sweden, Netherlands, Belgium, Norway, South Africa, Iceland, Portugal, Argentina, Denmark, and in 2017, Germany. Countries that have banned gay marriage include Nigeria, Tanzania and Senegal. Homosexuality is illegal in several African nations with prison terms available for offenders.
For more about marriage, see When Can I Get Married?

On May 9, 2012, President Barack Obama stated that he believes same-sex couples should be allowed to get married.
In 2013, Supreme Court justices Ruth Bader Ginsburg and Sandra Day O'Connor officiated at several gay weddings in Washington, D.C.
In October, 2017, the Ak-Chin Indian Community tribal court in Arizona announced that same-sex couples have a fundamental right to marry under the tribe's constitution and the Indian Civil Rights Act of 1968. The ruling only applies to the tribe but could lead to other tribes doing the same in similar cases.
In November, 2020, Nevada became the first state to protect same-sex marriage by adding an amendment to their state constitution stating such. The presidential election on November 3, 2020 was accompanied by state elections for a host of public offices as well as ballot propositions. The election saw the end of Donald J. Trump's administration and the election of former vice-president (under Barack Obama) Joe Biden and Kamala Harris as president and vice-president.
Find great resources in our
---