Young man confesses crime on YouTube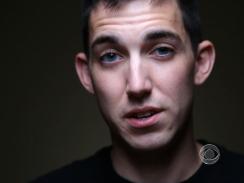 This may be a first, at least we haven't heard of a similar case. In June, 2013, 22-year-old Matthew Cordle was out drinking when he decided to drive. He ended up going the wrong way and crashed into Vincent Canzani, age 61, who died from his injuries.
In September, 2013, Cordle posted a three minute video on YouTube admitting that he "made a mistake" when he decided to drive and that he killed a man. Part of his post included "My name is Matthew Cordle, and on June 22, 2013, I hit and killed Vincent Canzani. This video will act as my confession." He admitted he had blacked out while driving. Two weeks after posting the video he surrendered to the authorities.
Cordle was convicted of aggravated vehicular homicide and driving under the influence of alcohol. He was sentenced in October, 2013 to 6 1/2 years in prison. At his sentencing he apologized to the Canzani family stating that "It should have been me that night, the guilty party, instead of an innocent man." Cordle also said he was "going to do everything I can to walk out of prison a better man than I walked in." Cordle was fined and the judge revoked his driving privileges for life.
This is not likely a new trend as it's a questionable way to confess to a crime. It leaves little to defend if, after being charged, he decided to plead not guily. On the other hand, it may be considered an honorable act that spared the Canzani family months or years of litigation. Not to mention we see little accountability today in the news. What do you think?
Find great resources in our
---