12 year old arrested for bullying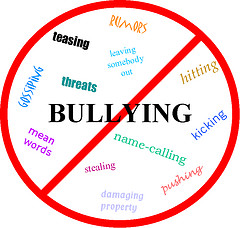 Shortly after school started in September, a 12-year-old girl at a middle school in Connecticut started harassing and bullying an older classmate. The victim's parents notified the police and the bullying got worse. In fact, it increased to the point where the 13-year-old victim made suicidal comments to her parents. Details about what exactly was said and how many times weren't disclosed.
On October 2, 2013, the bully was arrested. She was charged with disorderly conduct and released to her parents. If she admits what she did or the court finds her guilty of disorderly conduct, she faces consequences that will be up to the judge assigned to her case. That may include probation, community service, counseling or time in detention.
The local police chief commented on handling bullying incidents:  "If it is brought to our attention we will vigorously investigate the allegations and make arrests when appropriate. We investigate all claims of bullying and this type of behavior will not be condoned in a learning environment."
The lesson here is that anyone regardless of age can be arrested if a crime has been committed. Don't think you're too young and can get away with breaking the law. At all times, think before you say something to someone else, be kind and tolerant of others.
Find great resources in our
---