Did this dad go too far in disciplining his bully son?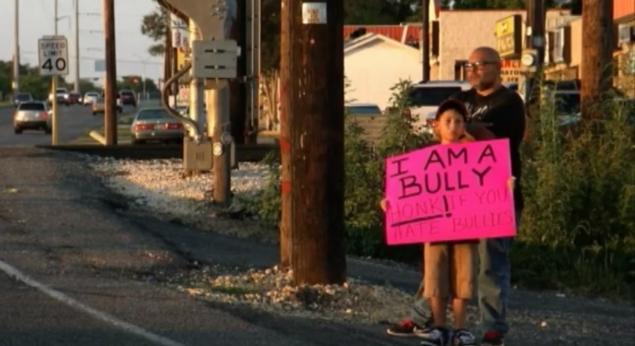 Jose Lagares was the father of a fourth-grader in Killeen, Texas. The school had told him about several bullying incidents involving his son. Grounding and extra work at home didn't seem to get his son's attention. So, Mr. Lagares tried a different approach.
"I'm not going to allow my child to be someone else's pain," said Lagares. "We don't need another Columbine … and I refuse for my child to be the cause of that." One afternoon in September, 2013 he and his son stood on a busy street corner in town. His son held a sign proclaiming "I am a bully. Honk if you hate bullies."
As you'd expect the response through social media was immediate. Lagares was both criticized and supported for his action. The next day he returned to the same corner holding a new sign that said "I am not sorry. Honk to stop bullying."
Did the boy's father go too far or was the punishment appropriate? Does public shaming serve a purpose? Do you think this boy will change his ways?
Find great resources in our
---