Can I go to the doctor without my parents′ permission?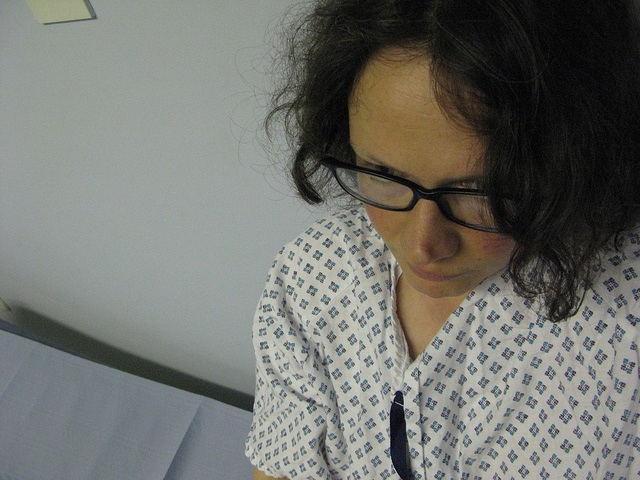 Most doctors, health care professionals and hospitals require written permission from your parents or legal guardian before seeing you. There are, however, some exceptions to this rule.
The first is called medical neglect. Since your parents are responsible for your care, if they refuse to take you to the doctor, or if they fail to give you medicine that your doctor has prescribed, the state may step in and see that your medical needs are met.
If you, a sibling, or a friend is a victim of medical neglect, it should be reported to Child Protective Services (CPS). If there′s a risk of bodily harm or injury, or someone′s life is in danger, the state will get involved. When you call CPS, ask to speak with a social worker and fully explain the situation.
If you′re under eighteen and don′t live at home, you may be able to obtain medical care without  your parents' consent or them knowing. You′re allowed to go to the doctor on your own, for example, if you′re emancipated (legally free) under the laws of your state, or if you′re married or a parent. You can arrange for your own health care if you′re pregnant or were sexually assaulted—whether your parents know about your circumstances or not. There are also laws for when a teenager is not required to get parental consent for an abortion.

If your parents are unavailable in an emergency situation and you need medical care or surgery, health care professionals may treat you. If your parents are going out of town, they should leave written consent for the person you′re staying with to take you to the doctor if necessary. Photo by Emonn(Flickr)
Due to an increase in substance abuse by young people, a number of states have lowered the age for treatment and counseling without parental consent. In some states, a twelve-year-old may independently obtain alcohol and drug counseling. If you′re in a treatment program under these circumstances, your identity is kept confidential and is disclosed to others only with your consent.
Teenagers can also receive health care on their own for the diagnosis and treatment of sexually transmitted infections (STIs) such as herpes, gonorrhea, and syphilis. In most parts of the country, you have these same rights regarding diagnosis for HIV and AIDS. At very little or no cost, you may go to a clinic for diagnosis and counseling. Some family planning clinics, for example, charge $20 for an HIV/STI test and counseling. The cost for treatment may also be on a sliding scale basis, or you may be eligible for public assistance.
For specific information on the laws in your state about seeking medical care, contact your library, health department, or family doctor. Check out the issue of costs for health care. Who is legally responsible for your bills if you seek treatment without your parents′ consent? Find this out in advance! The number for your local public health agency is either online or in the white pages of your telephone directory, or ask directory assistance for help.
FYI

Coping When You or a Friend Is HIV-Positiv by Pat Kelly (Hazeldon
Publishing & Educational Services, 1997). What to say and do.

An Encyclopedia of AIDS: A Social, Political, Cultural, and Scientific Record
of the HIV Epidemic edited by Raymond Smith (Penguin, 2001). Multiple
authors discuss the effect of AIDS on politics, culture, the individual, and
the law.

Everything You Need to Know About STDs by Samuel Woods, Jr. (Rosen
Publishing Group, 1997). Facts and figures about sexually transmitted diseases,
information about causes and prevention, and sound advice about
risky behavior that makes teens vulnerable.

Living in a World with AIDS by Anna Forbes (PowerKids Press, 1997). An
introduction to AIDS, how people become infected, and how to avoid
infection.

The Body: An AIDS and HIV Information Resource
www.thebody.com
Information, resources, support organizations, hotlines, insight from experts, forums for connecting with others, and much more. A comprehensive, up-to-the-minute site.

I Wanna Know
http://www.iwannaknow.org
A Web site maintained by the American Social Health Association, this is a reliable resource for information on sexuality and STDs. Learn how to prevent STDs, ask an expert questions via email, and check out other straight-talk sites listed on the links page.

National HIV/AIDS Hotline
1-800-342-AIDS (1-800-342-2437)
Spanish: 1-800-344-SIDA (1-800-344-7432)
Confidential 24-hour information and referral hotline sponsored by the Centers for Disease Control and Prevention (CDC).

National STD Hotline
1-800-227-8922
Information and referral hotline sponsored by the Centers for Disease Control and Prevention (CDC).

Sex, Etc.
www.sxetc.org
A Web site by and for teens, this is a great place to read about the experiences of others who are going through some of the same things that you might be. Get the scoop on dating, relationships, sex, STDs, and more.

Teenagers & HIV/AIDS
www.HIVpositive.com
At the main menu, click on "Women & Children with HIV." Then scroll down the menu on that page and click on "Teenagers & HIV/AIDS" to find facts about teens with HIV/AIDS, information about prevention and education programs, and a guide to resources. Part of the large HIVpositive.com site.

Teenwire
www.teenwire.com
This site from Planned Parenthood gives teens solid information on sexuality so that they are empowered to make responsible choices. Incorporating advice from teen contributors, this is a hip place the get the lowdown on all issues related to sexual health.
Photo by Pam loves pie (Flickr)
Find great resources in our
---