Do you have a right to a clean environment?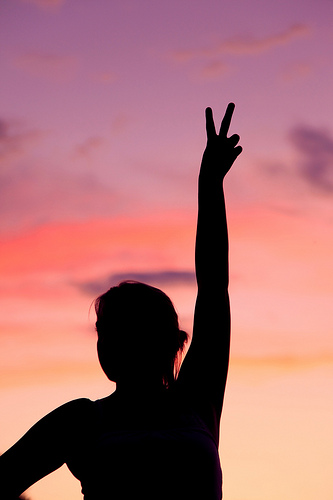 That is the claim twenty-one youths from across the U.S. are arguing in court since filing a lawsuit against the federal government in August, 2015 over their constitutional right to a clean environment (Juliana v. United States). They allege that the government knowingly contributed to the dangerous level of carbon dioxide emissions in the country and that their fundamental rights to life, liberty and property have therefore been violated.
The young plaintiffs are asking for a court order requiring the federal government to implement a climate recovery program reducing emissions to a safe level (of 350 ppm) by the year 2100.
One of the plaintiffs suing the government is 16-year-old Victoria Barrett. She is a great example of a youth activist using the power of her voice to make a difference and ultimately, change the direction of our climate crisis. "I didn't know I had the power and the ability to sue the federal government. This lawsuit is about showing that youths are the ones that are going to be making the change," Barrett stated.
According to environmental law professor Michael Gerrard, this lawsuit may be an uphill battle, but a win would establish a federal constitutional right to a clean environment and set a precedent throughout the U.S.
A lower federal court judge stated this when ruling on a motion in the lawsuit: "I have no doubt that the right to a climate system capable of sustaining human life is fundamental to a free and ordered society."
You can find out more about the lawsuit, the youth activists and the organization behind it at Our Children's Trust. Update: In January, 2020, the Ninth Circuit Court of Appeals dismissed the lawsuit for what's called "lack of standing." That means the plaintiffs incorrectly sought relief through the courts rather than through the legislative or executive branches of government. An appeal to the U.S. Supreme Court is possible.
Photo by Sharon Pruitt
You don't have to be part of this lawsuit to take action on climate change. Consider 15 year-old Greta Thunberg of Sweden. She started School Strike for Climate in 2018. Frustrated by the lack of attention paid to the threat of global warming, she set out to educate the public by setting up an information table outside the Swedish parliament. She cut classes on Fridays to catch politicians during the day, and her #FridaysForFuture protest went viral. In fact, on March 15, 2019, her actions inspired a worldwide protest for climate change that saw students from over 100 countries, including the United States, participating. Greta has been nominated for the Nobel Peace Prize which will be awarded in October, 2019. One of her nominees said "Greta has launched a mass movement which I see as a major contribution to peace."
On September 19, 2019, Greta addressed Congress in Washington, D.C. She offered a copy of the 2018 global warming report by the Intergovernmental Panel on Climate Change, commenting that she wanted them to "listen to the scientists. And I want you to unite behind the science. And then I want you to take real action."
"I want you to act as if our house is on fire," she has said. "Because it is." Greta has been nominated for the Nobel Peace Prize for her environmental activism. If she wins, she'll be the youngest recipient since Malala Yousafzai won in 2014 for advocating for education for girls.
Find great resources in our
---