Facebook personal info leads to email hacking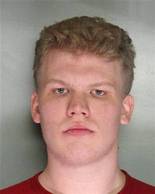 George Bronk was 21-years-old and lived at home with his parents in California. He spent much of his time trolling Facebook pages of women and girls. Information posted on users pages on Facebook provided him with clues to the security questions asked to enter someone's email account. He was successful with many pages considered by the owners to be private and safe. Once he had the information he needed, he hacked into the girls' email and folders looking for nude or semi-nude photos sent to their boyfriends and husbands.
George then sent the photos to the contact list for the email account. This included friends, family members and co-workers. Women in 17 states, the District of Columbia and England were victimized. Can you imagine how surprised the recipients of these photos were – not to mention how embarassed the victims were for their relatives to see them. In January, 2011, Bronk pleaded guilty to charges including computer intrusion, possession of child pornography and false impersonation. He was sentenced in July, 2011 to four years and eight months in prison.
Judge Lawrence Brown commented at Bronk's sentencing that "This case serves as a stark example of what occurs in so-called cyberspace. It has very real consequences. The intrusion of one's profile is no different than intruding one's home."
Victims turned up in Alabama, Arizona, California, Georgia, Illinois, Iowa, Kansas, Louisiana, Massachusetts, New Hampshire, New Jersey, New York, Ohio, Oregon, Texas, Virginia and Washington.
It pays to limit your personal information on the Internet. Think twice before uploading photos whether revealing or not. Once you post a photo it's out there forever. Even if you change your mind and remove it, you don't know how many times it's been saved or placed into someone else's folder. If you run across a picture of yourself that you didn't consent to have posted and you'd like it removed, contact the website it's on or service provider. Facebook and other social networking sites receive these requests everyday and are cooperative about removing graphic or offensive content.
Related case: California resident, Luis Mijangos, was successful in hacking into one hundred computers of young women and teenage girls. He took over their email and social networking accounts. Once he found sexually explicit photos of the girls, he threatened them with going public with the photos unless they provided him more of the same. In one case he carried through with his threat and posted nude pictures of a girl on her MySpace page. Mijangos pleaded guilty to wiretapping and computer hacking in March, 2011. In September, 2011 he was sentenced to six years in prison. The judge commented at sentencing that "Society has to understand that if you engage in this type of behavior, it's no joke. You are going to jail and going to jail for a long time."
Find great resources in our
---