"Flash mobs" lead to criminal charges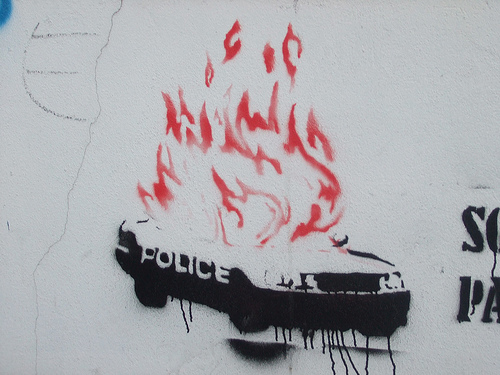 What originally started out as a community get together for fun and spontaneity has turned ugly in recent years. The trend began in 2003 when the first "flash mob" participants would break into a dance or pillow fight at a pre-designated time. It would last for five minutes or so and everyone would then go about their business. This was done anywhere a large group could get together: malls, parking lots, sports fields, etc. Local police and mall security were caught off-guard and ill-prepared to handle the crowds responding to the call to join in.
The masses have turned into smaller groups, organized on Twitter and Facebook, with a designated target. Retailers are being hit at a moment's notice by groups with malicious intent. Dubbed "flash mob thefts or robberies" the culprits storm a retail store, steal what they want and leave before enough police can respond to restore order and arrest the perpetrators. Some flash mobs have formed to engage in fighting and to settle gang disputes. Once apprehended, the offenders are arrested and charged with the appropriate violations.
Twitter reportedly brought a group of 30 people together in Philadelphia who assaulted several individuals in a shopping district. In June, 2011, a couple dozen youths hit a Sears store stealing sneakers, socks and watches. Within five minutes they were gone before the police could stop the raid. Philadelphia's deputy mayor for public safety stated that "They can communicate and congregate at a moment's notice. That can overwhelm any municipality." In Ohio, a July 4th, 2011 celebration was disrupted by a group of 1,000 teenagers mobilized through Facebook and Twitter. Fights broke out disrupting the family event.
Twitter, Blackberries and Facebook are also playing a part in the recent riots in England. A police shooting in August, 2011 led to a peaceful demonstration that turned violent. Disgruntled youth took advantage of the situation by ransacking stores, torching cars and buildings. Thousands of police officers were called out to gain control over the mobs of teens and twentysomethings. Staying a step ahead of the roving marauders was a challenge due to technology and the speed with which they were able to reform after being confronted by law enforcement. Social factors attributed to the outbreak included high unemployment among youth, the economy and cuts in social benefits, video of the rioting and alcohol. On a positive note, social networking has also been used to coordinate groups of clean-up volunteers throughout England following the week of turmoil.
There have been legislative attempts to address the problem. For example, the Cleveland City Council attempted to pass a bill making it illegal to organize a violent and disorderly flash mob. Recognizing the constitutional hurdles the bill would face, it was vetoed by the mayor. The National Retail Federation issued a report recommending steps stores can take to ward off the robberies. Law enforcement is also monitoring Twitter and Facebook pages to detect any signs of trouble.
You've probably seen flash mobs on YouTube or on TV. Legitimate performances are entertaining, lawful and uplifting. Watch the faces of observers caught up in one and you'll see an appreciation of performance. It's the few that take advantage of this trend to do harm that gives "flash mob" a negative connotation. It doesn't have to be that way.

Find great resources in our
---