Girls charged with cyberstalking classmate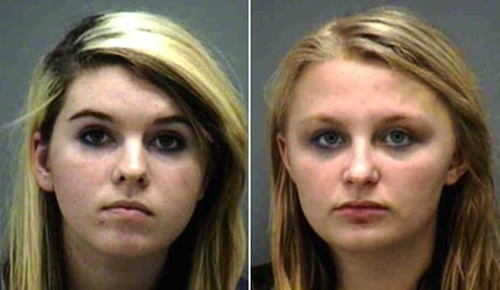 Once again, what may have started out as a joke  backfired on two Florida teens. In April, 2010, Taylor Wynn (16) and Mckenzie Barker (15) created a fake Facebook account using the name and face of a former friend at school. They photoshopped a woman's nude body to the page and added sexually explicit comments suggesting that she was willing to perform various sex acts with men in her area code. Their victim suffered weeks of ridicule at school until the page was taken down.
Following a lengthy investigation that included the FBI, the girls were arrested in January, 2011. Both were charged with felony aggravated stalking that may result in incarceration. After a brief court appearance they were released to their parents and placed in home detention until their next hearing in February.
The girls explained that they made the page as a joke because they didn't like the girl anymore and that it would be funny. Other students at Estero High School knew about it and Facebook showed 181 friends on the site. Investigators also recovered emails and text messages between Wynn and Barker about the incident.
"I believe the girls thought it was a big joke, unfortunately it's not. This is a crime," stated Officer Ryan Bell.
These charges are believed to be the first use of the "Jeffrey Johnston Stand Up for All Students Act" passed in 2008. Florida's anti-bullying law is named after Jeffrey who ended his life at age 15 in 2005 following years of bullying.
Update: In February, 2011, the prosecutor and victim's parents agreed that the case against the girls should be handled by the Neighborhood Accountability Board (NAB) rather than through the justice system. The Board has the authority to impose community service, a curfew for Taylor and Mckenzie and restrictions on their use of computers. If they comply with the Board's orders, the case will be closed and they won't have a record. NAB "places emphasis on giving the victim and other members of the community the opportunity to confront the offenders and to make them aware of the harm they may have caused."
Although resolved and now behind them, this incident will follow them for the rest of their lives. When they or anyone else Googles their names, one of the first things they'll see are the girls' mug shots.
"A bully doesn't have to be eye to eye to bully someone. Sometimes he or she gets into cyberspace and then there's no place to hide from their torment," stated Jeffrey's mother, Debbie Johnston.
Another case of cyberstalking resulted in the passing of 17-year-old Rachael Neblett of Kentucky in 2006. Read her story and about the campaign her parents started to fight cyberbullying.
Find great resources in our
---