Does the U.S. Constitution matter to you?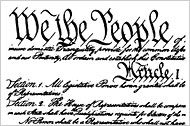 You may have read parts of this 4543 word document in a government or political science class. Passed in 1787, a reading of the Constitution on the floor of the House of Representatives opened the 112th Congress in January, 2011. This was the first such occasion in the history of the House of Representatives. Members took turns reading the document.
Representative Robert W. Goodlatte from Virginia came up with the idea. He was inspired by voters in his district who complained that Congress had gone beyond it's powers granted in the Constitution. Parts of the original document that were superseded by Amendments were not included in the reading. For example, Article 1, Section 2 referring to slaves as "three-fifths of all other Persons" was left out.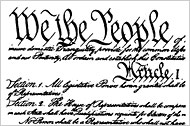 The Constitution has been amended 27 times. The first ten Amendments are known as the Bill of Rights. Many of the issues and debates over the rights and obligations of teenagers stem from the First Amendment which guarantees freedom of speech, religion, press, assembly and the right to petition the government.
 Arizona Representative Gabrielle Giffords* read the First Amendment.  Afterwards, she stated "I wanted to be here, I think it's important. Reflecting on the Constitution in a bipartisan way is a good way to start the year."
Another sobering moment during the reading came when Georgia Representative John Lewis read the 13th Amendment which abolished slavery.  Lewis was a leader in the civil rights movement in the 1960's.
Also noteworthy was the cross section of Representatives from regions all over the country – regions that didn't exist in the 1700's.  Not to mention the voices of female and African American representatives who didn't have full rights when the Constitution was drafted.
Skip a videogame or TV show and read this amazing document. It is alive and well in the 21st century. The Bill of Rights is discussed and debated in courtrooms and classrooms regularly.  Click here on iCivics.org  for more about the U.S. Constitution.
*A few days after this historic reading, Rep. Gabrielle Giffords was shot in the head by a 22-year-old male at one of her '"Congress on the Corner" events in Tucson, Arizona. Six other persons, including a 9-year-old girl there to see Giffords, and a federal judge, died. Giffords survived the assault as well as thirteen other victims.
Find great resources in our
---