Student fights Twitter bullying and "made kindness go viral"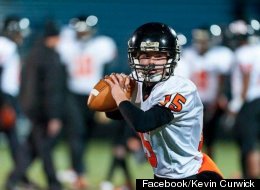 A senior at Osseo High School in Minnesota has turned Twitter bullying into a positive in support of his friends. Kevin Curwick is 17-years-old and noticed that some of his classmates were taunted on Twitter. So, he created his own Twitter account in July, 2012.  @OsseoNiceThings spreads positive comments on just that, nice things about others at school.
Tweeting about one of his teammates, Kevin wrote "He's a genuine guy works hard on and off the field, he's just a great guy to know." About another classmate who was bullied online, he posted "She is so good at dancing, she gets more scholarships than D1 athletes." He called another student a "great artist, but even better friend."
Kevin is a 4.0 student and has the full support of his coach. For showing that a nice guy can win, he was made co-captain of the team. Kevin decided to come out as the creator of the campaign and his mission to stand up for others. Other schools in the area have followed Osseo's example and created similar accounts. It is reported that accounts attacking his classmates have disappeared. Kevin has obviously learned that the best defense is a good offense.
Congratulations, Kevin, for doing something about what you recognized as wrong. It takes courage to stand up to and for others and do the right thing.
For a similar story about high school football players doing the right thing, take a look at Jefferson High School's Bully Guards here.
Find great resources in our
---