"Kids are being arrested for being kids"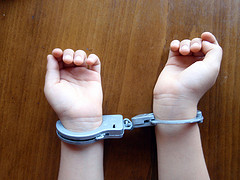 So says Shannon Kennedy, a civil rights attorney in New Mexico. She is suing the Albuquerque School District due to the number of cases over the past few years where students have been arrested over minor offenses. Having a cellphone in class, burping, refusing to change seats and destroying a history book have led to arrests. Most schools have zero-tolerance policies regarding weapons and drugs and this is understandable. But contacting law enforcement over routine "acting up" may be going too far. Law enforcement should be brought in when a crime has been committed or to protect someone from harm.
For example, in April, 2012, a 6 year-old girl attending kindergarten in Georgia threw a tantrum in class. Salecia Johnson was accused of throwing books and toys and tearing items off the walls. She also tried to break a glass frame, jumped on a paper shredder and hit the principal in the leg with a small shelf. Salecia goes to Creekside Elementary in a small town outside of Atlanta, Georgia.
The police were called and the officer was unable to calm Salecia down in the principal's office. Consequently, she was handcuffed behind her back and taken away in the patrol car. Police policy calls for handcuffs for anyone taken into custody, regardless of age. She was given a soda at the station and released to her aunt. Salecia will not be charged with any crimes due to her age. The school stated that the police were called out of concern for Salecia's safety and concern for the well-being of other students and staff. The school superintendent called Salecia's behavior "violent and disruptive."
Do you think this case was handled appropriately? Is there something else the school could have done before calling the police? There's no information about her parents and if they were contacted and available to come to the school.  That may or may not have made a difference. What are the responsibilities of teachers and school officials when a student acts up to the point where others are put in danger?
In May, 2012, the Jackson, Mississippi School District agreed to stop handcuffing students to poles and other objects as a means of discipline. The use of restraints on students reached a record high in 2009-2010. Seventy percent of the students were diabled. Handcuffing them to chairs, railings and desks was used for minor infractions such as a dress-code violation. A lawsuit filed by the Southern Poverty Law Center resulted in the agreement by the school district to discontinue such practices.
Find great resources in our
---