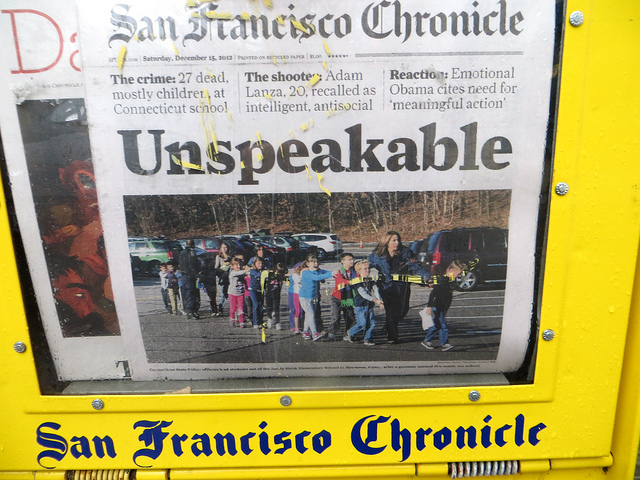 A simple question: what is more important to you: (1) your children/grandchildren and their grades at school and future, or (2) YOUR annual grade from the National Rifle Association?
Consider the following tragedies and what they have in common:
July, 2016:     84 Bastille Day (France's 4th of July) celebrants including 10 children shot and mowed down by a truck in Nice, France
July, 2016:     5 police officers ambushed and killed in Dallas, Texas
June, 2016:     49 massacred at a gay nightclub in Orlando, Florida
December, 2015:    14 holiday partygoers murdered in San Bernardino, California by two radicalized terrorists
June, 2015:     9 shot to death during bible-study at a church in Charleston, South Carolina
December, 2012:     twenty 6 and 7 year-olds slaughtered in their classroom in Newtown, Connecticut
July, 2012:     12 shot to death in a theater in Aurora, Colorado
Each of these events involved a semi-automatic weapon with large ammunition clips for quick & easy reloading. Congressional inaction on sensible gun control over the past decade speaks for itself.
Have you considered the possibility of your family and friends coming under fire of a lone gunman with a high-powered rifle? Would that get your attention? Would that outweigh your quest for NRA campaign dollars? Or is your position in Congress more important than your kids and grandkids? Weren't you sworn in to represent your constituents and their positions on matters of community concern? Isn't it true that the majority of Americans support gun legislation – not elimination of the Second Amendment, but common sense regulation of weapons of war? It's time to honor your oath of office.
Photo by Torbakhopper (Flickr)
Find great resources in our
---