Principal seeks expulsion for "Banana Man" sprint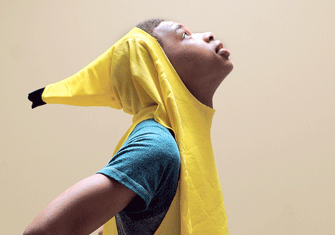 In September, 2011, 14 year-old Bryan Thompson put on a banana costume and ran around the football field at halftime. The police detained Bryan until his mother came to pick him up. No charges were filed.
The school, however, suspended him for 10 days and the principal is seeking expulsion for the rest of the school year. This was not Bryan's first disciplinary action at Colonial Forge High School in Virginia. He had been suspended once for having a cell phone in class and a second time for starting a web site called "Roasting Station" where students could post silly pictures of themselves. Bryan has Asperger's Syndrome, a mild form of autism.
In protest of Bryan's suspension, students wore "Free Banana Man" t-shirts to school. The administration ordered the students to remove them and, in some cases, the shirts were confiscated. Citing the landmark Tinker decision, the local ACLU (American Civil Liberties Union) lawyer sent  the school district a letter reminding them that "It is well established law that students do not lose their free speech rights at the schoolhouse door."
Bryan is appealing the suspension. His supporters await the school's decision regarding the t-shirts. What are your thoughts about this? Is it surprising that the school suspended Bryan for this prank? Do you think it caused a "disruption" at school especially during a football game? If any discipline is merited, what should it be? Maybe, a day or two of in-school suspension? Do you think suspension for the rest of the school year is extreme? Does the penalty fit the crime? Should Bryan's autism be a factor to be considered? Why or why not?
Find great resources in our
---