"Satan's representative" wins $4.5 million verdict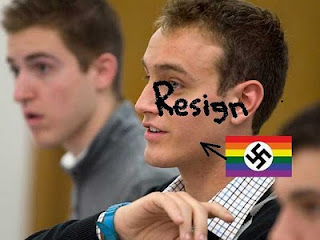 Assistant Attorney General, Andrew Shirvell, of Michigan was sued by the University of Michigan student body president, Christopher Armstrong who graduated in 2011. In 2010, Shirvell launched an anti-gay blog to get Armstrong to resign. His website named "Chris Armstrong Watch" was allegedly defamatory and included such statements as referring to Armstrong as "Satan's representative on the student assembly" and a "privileged pervert." He accused Armstrong of promoting a "radical homosexual agenda" and hosting gay orgies in his dorm room.
Shirvell was terminated from his position in 2010. His immaturity was cited as part of the reason he was let go from the Attorney General's Office. Shirvell maintained that his speech was protected by the First Amendment and was justified since Armstrong was a public figure. He denied being a bigot or a cyberbully.
Armstrong filed suit against Shirvell for defamation and causing emotional distress. Shirvell represented himself at trial. In August, 2012, the jury ruled in Armstrong's favor returning a verdict of $4.5 million. Armstrong initially sought an apology and $25,000 in damages. But when Shirvell refused to admit that his actions were wrong or apologize, Armstrong and his lawyer decided to leave it to the jury. Shirvell will likely appeal the verdict.
There is a saying in law that a man who represents himself has a fool for a client.
As you know, cyberbullying isn't limited to teenagers or young adults. Anyone can participate in sending thoughtless messages to others for a variety of reasons. Those using the Internet or a cell phone need to think before sending. The post becomes a permanent entry that can be retrieved and used as evidence in a court of law or in the court of public opinion. Emails, blogs and tweets can bite back.

Find great resources in our
---