Teen charged with pressuring boyfriend to commit suicide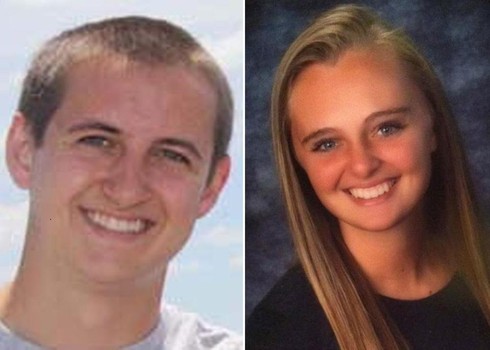 Conrad Roy III of Massachusetts had a history of depression and had attempted suicide in the past. In 2012, he met Michelle Carter online and together they formed a relationship, meeting in person once or twice. In the summer of 2014, 18-year old Conrad spoke with Michelle, who was 17, about ending his life. They communicated mainly through text messages which have since become evidence in a criminal investigation.
Hundreds of texts exchanged in July, 2014 reportedly show that Michelle was tired of Conrad's constant talk of suicide. She told him he'd be better off dead and that the time was right. His family would understand and she'd help them through their grief. Michelle even researched methods of suicide, writing Conrad about hanging himself, using a bag to suffocate himself, or by carbon dioxide poisoning. She wrote him, "You can't think about it. You just have to do it. You need to do it."
On July 12, 2014, Conrad ended his life by inhaling carbon dioxide while sitting in the cab of his truck. At one point, he got out of the truck, but Michelle convinced him to get back in the truck. Michelle was charged with involuntary manslaughter and, after numerous continuances, awaits trial in 2017. She will be tried as a "youthful offender" which, if convicted, may result in a prison sentence up to twenty years. Her lawyer stated that Michelle was brainwashed into supporting Conrad's plan to kill himself, and that her messages to him were protected as free speech. The state is arguing that when Michelle convinced Conrad to get back into his truck, that's when she crossed the line from free speech to a criminal act.
What do you think? Michelle didn't participate directly in Conrad's death. Should she be held responsible for encouraging him to act? Did her speech cross the line between protected speech and that which is not covered by the First Amendment?
Update: In June, 2017, a juvenile court judge found Michelle guilty of involuntary manslaughter. Although she faced a maximum penalty of twenty years in prison, she was sentenced to serve 15 months that was suspended pending her appeal of the case was resolved. In the meantime, Conrad's mother filed a wrongful death lawsuit in July, 2017 against Michelle seeking $4.2 million.
In February, 2019, the Massachusetts supreme court upheld her conviction and sentence. The court stated, in part, that  "We are therefore not punishing words alone, as the defendant claims, but reckless or wanton words causing death. . . . The evidence against the defendant proved that, by her wanton or reckless conduct, she caused the victim's death by suicide."
Find great resources in our
---