"The town got away with murder"

These are the words of lawyer Richard McFadin of Skidmore, Missouri. He represented a client named Ken Rex McElroy who had numerous brushes with the law. Known for harassing women, stealing livestock, destroying property and threatening lives, McElroy averaged three felony charges every year. Yet the "town bully" of this small farming community was never held responsible for his acts.
When he shot the local grocer, who was 70-years-old, he was finally convicted by a jury of second degree assault and sentenced to two years in prison. However, he was released pending an appeal of the conviction. Speaking about the past ten years of fear, the grocer's daughter commented that "No one has any idea what a nightmare we lived."

Skidmore, a town of approximately 400 people had had enough of McElroy and the justice system. When the sun came up on July 10,1981, 45 to 60 people were reportedly in the downtown area. Shots rang out and McElroy, who was 47, was killed in the front seat of his truck. He had just picked up some beer at the town bar and was sitting next to his wife, Trena.
(Family Photo of McElroy)
The investigation into the murder turned up no eyewitnesses. No one admitted seeing the shooter or shooters. Bullet casings from two guns were found. Three attempts to obtain an indictment from a grand jury failed due to insufficient evidence. 
Although there is no statute of limitations on murder, there have been no charges filed in the past thirty years. The young district attorney for Nodaway County lost his first bid for re-election in 2010. He leaves the office with the murder of Ken Rex McElroy unsolved.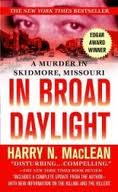 It seems unlikely that anyone will be brought to justice for the murder. The one person identified by McElroy's wife as the main gunman, Del Clement,  was never charged and he died in 2009. Still no one is talking.
As you might expect, a book was written about this case ("In Broad Daylight: A Murder in Skidmore, Missouri") that was made into a television movie by the same name in 1991.
Find great resources in our
---