What do I put on a job application if I′m asked about prior arrests?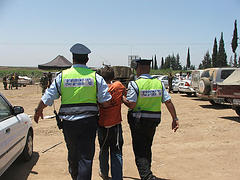 You should write the truth. The exact phrasing of the question on the application is important. There′s a difference between being arrested for a crime and being convicted of a crime.
You may be arrested by the police, with no further action taken. If you′re not charged with a crime and are released from custody, the arrest may remain on your record. This means that the arrest may show up in a computer check with local police or FBI.
 Did you know that:
Approximately 2.1 million persons under 18 were arrested in 2008—most were 16 and 17.
32% of juveniles arrested in 2003 were under age 15. Most of them were arrested for arson, vandalism, theft, running away, assault, or burglary.  [Juvenile Offenders and Victims: A National Report, National Center for Juvenile Justice (2006)]
If you answer "no" on a job application when, in fact, you were arrested, you′ll have to explain the situation. Employers are reluctant to hire someone who isn′t straightforward and honest. After indicating that you were arrested, you might further volunteer that charges were never filed or that an error was made. Explain in a short statement whatever happened at the time of the incident.
On the other hand, the question on the application might be whether you′ve ever been convicted of a crime. There′s no getting around the question—either you were convicted (found guilty of the charge) or you weren′t.  Simply answer the question. If you feel an explanation should be made, add a brief statement.
Having a record may prevent you from getting certain jobs. Depending on the type of job and the nature of your record, an employer can legally decline to hire you. For example, if you have two speeding tickets and you apply to be a messenger for a local company, you′re not likely to get the job because of insurance restrictions. Once you′re hired for a job, however, you qualify for certain rights including anti-discrimination protections in the workplace.
If you are interested in clearing your record, read here about expunging juvenile records.
Find great resources in our
---