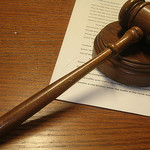 When a juvenile or adult is charged with a crime, there's a good chance they may never see a jury or a judge at trial. The majority of cases filed by prosecutors in the U.S. end up in a "deal" where a plea bargain is made and the need for a trial is avoided. If this wasn't the case, the trial backlog would be years with victims waiting for justice and defendants crowding already overcrowded jails.
Most cases filed by prosecutors are "pled out." That means the prosecutor reviews the case, the defendant's history and all evidence supporting the crime. If he or she deems the case appropriate to offer the defendant a bargain in return for a plea, then the case is set before the assigned judge who reviews the deal reached. The judge is not required to accept the plea bargain agreed to between the state and the defendant. He or she may reject it in the interests of public policy or fairness to the victims.
So, for example,  if you were arrested and charged with three home burglaries and had a clean record before these crimes, the prosecutor may require you to admit one of them for dismissal of the other two. You may still be held responsible for restitution to all three victims, but only one felony would be on your record instead of three. You're not required to accept the state's plea offer. You can take your chances at trial and hope for a complete acquittal.
A recent case in Flagstaff, Arizona provides a good example of a rejected plea offer and the consequences imposed on the defendant. Martin Riviera-Longoria was 24-years-old when his girlfriend left her three young daughters with him to watch while she went to work in 2008. The ten-month-old suffered injuries including broken ribs, a skull fracture and severed intestines. The other girls also sustained injuries. At first the state offered a 7-year prison sentence if Longoria would plead guilty. He maintained his innocence throughout the next four years. In 2012 a jury found him guilty of six counts of child abuse. On July 24, 2012, he was sentenced to 101 years in prison. Longoria spoke at his sentencing, explaining that "I had the opportunity to sign and leave this place and not be here right now, but I did not do so because I was not going to say I did something I did not. I'm not a bad person as many think I am." Longoria has plenty of time to think about this.
Find great resources in our
---