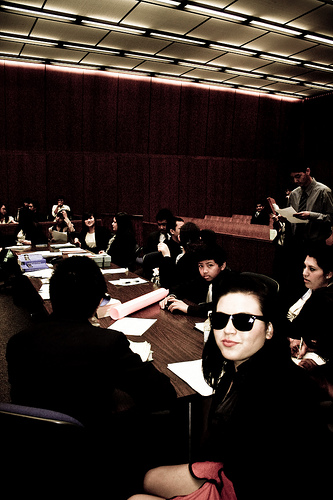 Many jurisdictions around the country have teen courts.  These are voluntary, alternative programs that keep the first-time offender out of juvenile court and from establishing a record.  They are run by either the juvenile court, juvenile probation department or a school district.  Teen Court is staffed by teenagers who are volunteers from the community.  They act as the jury, prosecutor, defense attorney and bailiff.  The judge is an adult volunteer and may be a local attorney or judge.
States differ in the requirements of teen court but generally persons between 10 and 18 may appear before the court.  It is voluntary and the person must be willing to admit what he or she is accused of doing.  Teen courts only deal with low level misdemeanors such as shoplifting, traffic violations, alcohol and tobacco offenses, disorderly conduct and minor criminal damage.
Usually a teen may only appear before a teen court one time.  A major benefit of a teen court program is that it keeps the teen from getting a record for their first minor brush with the law.  To find out if  Teen Court exists where you live and if you're eligible to participate in the program, talk to your school counselor or Google the name of your state and "Teen Court."
The teen jury is responsible for deciding the penalty.  The teen prosecutor argues for a certain penalty while the teen defense attorney pushes for a lesser consequence.  The jury discusses the case and arrives at a decision that is announced by the judge.  Consequences usually include community service, education classes and an order to serve as a juror in teen court.  Completion of all sentencing terms results in dismissal of the case.  If the teenager fails to complete his or her sentence, the case may result in the filing of formal charges in juvenile court.
Read here about teen courts in Los Angeles and a new program that began in 2012 called "Stopping Hate and Delinquency by Empowering Students."
Find great resources in our
---