An exceptional act of kindness by teens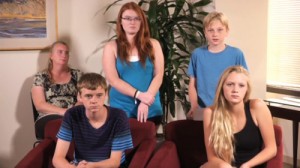 You may have heard about this tragedy that occurred in August, 2014 in Arizona. But you may not have heard the rest of the story.
A 9-year-old New Jersey girl was at a gun range with her parents. She was being taught by a 39-year-old shooting instructor in the handling of an Uzi sub-machine gun. The recoil from the gun overtook the girl and her instructor was accidentally shot and killed.
Instructor, Charlie Vacca, had four children. A few weeks following their father's death, Christopher, 11, Tylor, 14, Elizabeth, 15 and Ashley, 19 wrote the 9-year-old girl a letter. They also made a video in the hopes that she will eventually see it.
Each of the Vacca children spoke to the girl in the hopes that she will find peace. Maybe, "Someday  we can meet you, hug you, and tell you that it's okay," commented Christopher. Tylor stated "We think about you, we are worried about you, we pray for you . . . Our dad would want the same thing." Ashley added that "Like you, we are living through this tragic event that we cannot shut off." Elizabeth said "Our dad would want you to know that you should move forward with your life. You should not let this define you. You should love yourself and love your family."
Brave, courageous comments from young victims. Forgiveness, grace and compassion is a lesson for us all.
Find great resources in our
---