Can a school official search a student?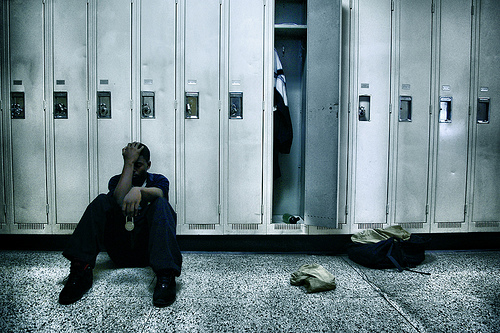 The Fourth Amendment protects you against unreasonable searches and seizures. Does this apply to students at school? Yes. Does it mean that your locker or backpack are off-limits to school personnel? No.
Your school has a responsibility to you and the community to provide you with an education in a safe environment, and to maintain order in the classroom and on campus. This can only be done when problems are kept to a minimum at school. Keeping guns, gangs, drugs, and violence out of schools has become a priority across the nation. Strict rules regarding these activities are legal and enforceable.
The Gun-Free Schools Act of 1994 mandates expulsion from any school receiving federal funds (which includes most public schools) for bringing or possessing a firearm at school.
A substantial number of sixth- to twelfth-grade students report high levels of violent crime, weapons, and gangs in their schools. Nearly all students are aware of incidents of bullying, physical attack, or robbery at school.Whether as victims or witnesses, students are equally likely to worry about school violence. The Safe Schools Act of 1994 provides funding for conflict resolution and peer mediation programs in schools. The courts have also addressed the issue of safety at school through a number of cases.
The leading case on this subject is New Jersey v. T.L.O., the 1985 U.S. Supreme Court decision that set the standard for school search and seizure policy. At a New Jersey high school, a teacher caught T.L.O.* a freshman girl smoking in the bathroom. The girl was taken to the principal′s office, where she denied everything. The assistant principal demanded to see her purse and proceeded to open and search it.

He found a pack of cigarettes, a small amount of marijuana, a marijuana pipe, empty plastic bags, a substantial number of $1 bills, an index card listing students who owed her money, and two letters that suggested she was dealing drugs. When the girl confessed to the police that she had been selling marijuana at school, she was charged and placed on probation. [Photo by DoobyBrain (Flickr)]
The court debated whether the search of her purse was a violation of the Fourth Amendment. The court ruled that a school official may conduct a search of a student if there is a "reasonable suspicion" that a crime has been or is in the process of being committed, or that a school rule has been broken.  Since T.L.O. was seen smoking but denied it, the principal had reasonable suspicion to conduct the initial search of her purse. Then when he found not only cigarettes but marijuana he was justified in continuing to search for contraband.
"Reasonable suspicion" means more than a hunch that you′re up to something unlawful or are about to break a school rule. Based on a totality of the circumstances—time, place, activity, your school record, age, and source of information—the search may pass the reasonable suspicion test.
Although the court recognized that students have privacy rights at school, these rights are balanced with the school′s need to maintain an environment where learning can take place. The court held that the standard to be applied in school searches is that of reasonableness. This covers not only your person, but your locker, desk, car, and backpack. Some cases have extended the search to off-campus incidents, if reasonably related to the school.
The Court also stated in T.L.O. that "A teacher's focus is, and should be, on teaching and helping students, rather than on developing evidence against a particular troublemaker."
Schools are going to great lengths to provide a safe school environment. You may have seen metal detectors and uniformed police officers at your school, on city buses, and at school events. School resource and D.A.R.E. (Drug Abuse Resistance Education) officers are being assigned to elementary through high schools in a national campaign against drugs and violence at school. Some high schools are using drug-sniffing dogs to randomly check student lockers.
Fifth Amendment Right at School?
If you find yourself in a search situation at school, the principal and teachers have a right and a duty to question you. When you hear someone say they′re "taking the Fifth," this doesn′t apply at school unless the police are called in and the person is taken into custody. The "Fifth" here refers to the Fifth Amendment. It means that you don′t have to say anything that would help the police charge you with an offense; you have the right to remain silent if charges are filed against you. School officials, however, aren′t police officers. They have the authority to investigate school violations, and they can question you.
In another case, the North Dakota Supreme Court ruled in April, 2012 that a school resource officer only needs reasonable suspicion of unlawful behavior to conduct a search of a student. In this case, Christian Alaniz, Jr., age 18, was seen in an area known for drug activities. He was brought to the principal's office and asked to empty his pockets. When he did, a glass pipe and synthetic marijuana was found. Alaniz pleaded guilty and challenged the search on appeal. However, the court upheld the search as constitutional stating that "The search was not excessively intrusive in light of Alaniz's age, gender, and nature of the suspicion. . . .The search was reasonable."*
Similar cases include:
An 11-year-old South Carolina sixth grader brought a steak knife to school in October, 1996. Although it seemed to be an accident (she was helping her mom pack her lunch), she was suspended from school and charged with possessing a weapon on school grounds. The charge was dropped a few weeks later, and she returned to school.
In Ohio, 14-year-old Kimberly gave her 13-year-old friend Erica some Midol at school. Kimberly was suspended for 14 days for distributing drugs, and Erica for 9 days for possession. TIP: Give all drugs—including prescription drugs and over-the-counter medications—to your school nurse!
*State of North Dakota v. Alaniz, 2012 WL 1173764 , ___N.W.2d ___.
Strip Search of Student by School Officials
In 2003, Savana was a 13-year-old 8th grade girl in Safford, Arizona. She was strip searched in the nurse's office with two other female school personnel in the room. They were looking for pills that she allegedly had with her and was giving out at school. None were found.
A federal court ruled in July, 2008 that the search violated her Fourth Amendment right against unreasonable searches and seizures. The court stated in its opinion: "It does not take a constitutional scholar to conclude that a nude search of a 13-year-old girl is an invasion of constitutional rights. More than that: it is a violation of any known principle of human dignity."  (Redding v. Safford Unified School District, 9th Circuit Court of Appeals).
Update:  The school district didn't like the court's decision and asked a higher court to review it. In April, 2009, the Supreme Court heard arguments in the case and in June, 2009, agreed that the search was unreasonable and that Savana's 4th Amendment rights were violated. Savana's six-year battle will end when she reaches an agreement with the school district regarding a monetary settlement.
Related case:  In 2012, over 200 high schools in England, Scotland and Wales placed cameras in bathrooms and locker rooms. Just the doors to the stalls and sink areas are videotaped with the goal of reducing bullying incidents and in the interest of student safety. The videos are viewed by school officials only when a problem is reported and are kept for up to thirty days. In these countries, such a measure is legal whereas in the United States, the issue is one of "expectation of privacy" and the Fourth Amendment. What do you think about this step to ensure your on-campus safety? Is this going too far?
Find great resources in our
---