Can my parents force me to follow their religion?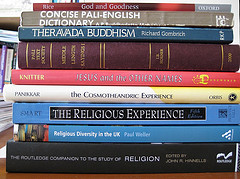 The First Amendment to the U.S. Constitution guarantees all Americans freedom of religion. This right is not limited to adults. Children and teenagers enjoy the same right, which is balanced with the fundamental rights of parents to raise their children without government interference.
What this means for you is that the government and the courts won′t get involved if you and your parents disagree about religious beliefs or practices. As long as you′re safe and your basic needs are provided (food, shelter, clothing, and medical care), the state can′t interfere with your family. Your parents are free to decide what church to attend, how often, and what practices will be honored in the home.
If you′re at risk of being abused or neglected because of your parents′ religious beliefs, the police or Child Protective Services (CPS) may step in to ensure your safety. For example, if you were in need of a blood transfusion or other urgent medical care, and your parents refuse to give their consent due to their religious beliefs, the court could get involved. In a life-threatening situation, or one where there′s a risk of permanent disability, the court has the right to order the appropriate medical care for you.
Occasionally, a hospital or doctor will contact the court to assist with difficult emergency cases. In 1994, the U.S. Supreme Court stated that parents may be free to become martyrs themselves, but they are not free to make martyrs of their children (Prince v. Massachusetts*).
In following that decision, a Minnesota court stated that although one is free to believe what one will, religious freedom ends when one′s conduct offends the law by, for example, endangering a child′s life" (emphasis added – Lundman v. McKown**).
In the Minnesota case, an eleven-year-old boy was diagnosed with juvenile-onset diabetes. His parents were Christian Scientists, a religion that believes in prayer as the proper treatment for illness. The boy died because he was denied medical treatment. In discussing the difference between the freedom to believe and the freedom to act, the court upheld the government′s right to restrict acts based on religious beliefs. In other words, people can′t claim religion as a reason for not paying taxes, violating child labor laws, marrying more than one person at a time, or refusing medical care for their children.
In September, 2011, Oregon residents Dale and Shannon Hickman, both 26 years old, were convicted of second degree manslaughter in the death of their infant son. Born two months premature at home, David Hickman went into distress. Instead of seeking medical treatment, they prayed and annointed him with olive oil. David passed after nine hours. His parents  are members of a faith-healing church where other parents have also lost children in similar situations. They were sentenced on October 31, 2011 to 75 months in prison followed with three years probation.
In a similar situation, Shannon Hickman's sister, Sarah Mitchell, gave birth to twins in 2017. Sarah was 24 and her husband, Travis, was 21. The babies were premature and born at home. One of them, baby Ginnifer, had breathing problems and died at home. Medical help was not sought and the parents were charged a few months later with murder and criminal mistreatment. They pleaded guilty to negligent homicide and mistreatment and were sentenced in July, 2018 to six years in  prison. The surviving child is in foster care.
As you get older and think about the role of religion in your life, talk with your parents. Share your ideas and feelings. Talk with your friends who may belong to different faiths. What is their relationship with their parents on the subject of religion? It won′t be long before you′re independent and able to worship as you choose.
*Prince v. Massachusetts, 321 U.S. 158 (1944).
**Lundman v. McKown, 530 N.W.2d 807 (1995).
Find great resources in our
---