Cheerleaders Extraordinaire – Iowa's Spartan Sparkles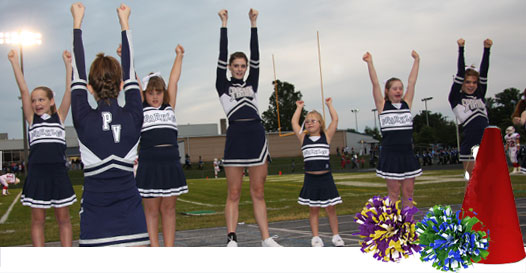 At Pleasant Valley High School in Bettendorf, Iowa, several varsity cheerleaders created a squad for children with disabilities. Ten girls from 8 to 15 years old, with special needs from autism to Down Syndrome, practice twice a week with volunteer cheerleaders. The Spartan Sparkles squad is student-led and fully integrated into the school's sports program.
Started in 2008 by 17-year-old Sarah Herr, the Sparkles cheer at varsity football and basketball games. In March, 2009, they brought home the gold at the Mid-Winter Special Olympics at the University of Iowa.
Practice includes having fun while learning new skills. Cheerleading requires aerobic stamina, strength, balance, rhythm and flexibility. Games to help the girls count and stay on the beat are part of practice.
Community and school support has resulted in the creation of "The Sparkle Effect." Co-Founders of the organization, Sarah Herr and Sarah Cronk, seek to spread the program to as many of the nation's high schools as possible. As of 2010, the program has spread to 17 high schools nationwide with a goal of 100.
 The Sparkle Effect is a non-profit group that offers a Quick-Start Kit,  guidance, peer mentoring, and online tools to enable high school students to create their own cheer squad. Take a look at www.thesparkleeffect.org for more information and to contribute to this great organization.
On the Sparkles web site www.spartansparkles.com you can also view videos of the squad's performances and recognition on the websites of Miley Cyrus and the Jonas Brothers.
Some of the many testimonials given the girls include:
"It really has helped Emily feel she's a part of the student body. This has definitely helped her gain more confidence. It makes all things possible for her."  Ed Finn
"You all gave these girls an opportunity to be a part of something that was never open to them before, and you demonstrated for the world how we ALL benefit and learn from embracing differences."  Mary Johnson
[Quotes from spartansparkles.com]
Logo of TheSparkleEffect.org
Update: Sarah Cronk, one of the founders of The Sparkle Effect, won the 2011 Do Something Award. The program has grown to 26 squads in 15 states and one in South Africa. Congratulations Sarah! What an accomplishment!
Find great resources in our
---