Do students have freedom of speech on social networks like Facebook?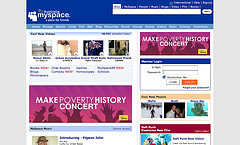 Justin* was a 17-year-old senior at Hickory High School in Pennsylvania.  On his grandmother's computer he created a parody of the school's principal and posted it on MySpace.
It contained silly questions and answers and crude language with the principal's picture taken from the school's website.  Justin sent it to his friends and it spread to most of the student body.  Justin was suspended for ten days and prohibited from attending his graduation ceremony.
Justin challenged the school's discipline and won.  The court stated that "A MySpace Internet page is not outside of the protection of the First Amendment."  His parody did not disrupt the school environment or interfere with the school's mission.
This does not, however, make MySpace, Facebook, YouTube and other social networking sites a safe haven for total expression.  If the content poses a true threat of harm to someone or property damage, the school and law enforcement may take action and freedom of speech may not necessarily provide protection.
Update:  The school district appealed the lower court's decision.  On February 4, 2010, the appellate court denied the district's appeal, leaving the decision in Justin's favor. Then, in April, 2010, the court set aside the opinion and reset the case to be heard by the full court in June, 2010.  Stand by for more and possibly a run at the U.S. Supreme Court later this year.
In June, 2011, the Third Circuit Court of Appeals ruled in Justin's favor finding that his First Amendments rights were violated and that the school should not have disciplined him. There was no disruption at school as a result of his parody of the principal, it was created away from school, and it didn't affect any school-sponsored activity. The school district may pursue the case one step further by appealing the issue to the U.S. Supreme Court.
In January, 2012, the Supreme Court declined to hear the appeal by the school district in Justin's case. That  means the decision of the lower court remains in place and that Justin won his challenge of the school's discipline.
See more cases involving the application of the First Amendment at school.
*Layshock v. Hermitage School District, 2007 WL 2022096 (2007).
Find great resources in our
---