Facebook threats lead to shooting of 12 year-old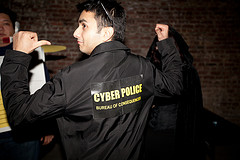 Teenage gangs use social networking sites like everyone else. The downside of electronic communication is evident when threats are exchanged and cross over into real life.
In April, 2011 two rival gangs exchanged threats on Facebook. This led to a shooting outside Cook Elementary School in Chicago. A 14 year-old gang member shot into a crowd of students standing in front of the school at the end of the day. A 12 year-old boy, a rival gang member, was hit in the back and hospitalized.
The older boy was arrested and charged with attempted murder and aggravated battery. He was placed in a juvenile detention facility pending further hearings. The posts on Facebook continued with new threats of retaliation between the gangs.
Law enforcement, likewise, uses social media to investigate and monitor criminal activity. It is very difficult to remain anonymous today. Your digital footprint is everywhere and can be easily traced. To avoid trouble at school, work and with the law, think ahead about consequences of mean-spirited and cruel posts.
This New York Times story explains the efforts to fight crime by cyber-experts.
Find great resources in our
---