Fines for harrassing teachers online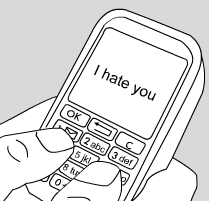 House Bill 1364 has been introduced into the Indiana Legislature in 2013. If passed, the new law will allow for legal action against students and their parents who go online and harass school employees. Fines up to $1,000.00 are possible. Unlike the law passed in 2012 in North Carolina, the Indiana version does not call for criminal prosecution against the student or parent who violates the law.
The law calls for fines against those who go after a teacher, principal or other school employee on Facebook or any other social media site. Creating fake profiles or making comments or encouraging others to do the same is covered in the legislation. Posting "private, personal or sexual information" about a school employee or "real or doctored" photos will be prohibited. Former students are also included in the proposed law. The intent is to protect school employees against intimidation or "torment" by those being served by the school.
One of the co-sponsors of the bill commented that "To be an effective teacher, you have to have your credibility intact. The intent is to protect teachers from those types of situations" meaning personal attacks on Facebook, Instagram and others. However, since neither "torment" or "intimidate" are defined in the bill, it may be challenged as unenforceable until it's clear about what is prohibited.
Find great resources in our
---