Is life in prison without the possibility of parole, for a 14-year-old involved in a homicide, unconstitutional?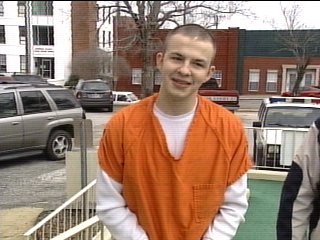 Nationwide, there are 73 inmates who are serving life sentences with no possibility of parole for their part in homicides committed when they were 14 or younger. On November 7, 2011, the U.S. Supreme Court agreed to hear two of these cases. The focus of the arguments to the Court will be the Eighth Amendment's ban against cruel and unusual punishment. A decision from the Court is expected by June, 2012.
The Eighth Amendment reads: "Excessive bail shall not be required, nor excessive fines imposed, nor cruel and unusual punishments inflicted." (passed in 1791) 
Evan Miller was 14 when he and a 16-year-old boy got into a fight with a neighbor who was drunk. They beat him with a baseball bat, took $350 and his baseball card collection and set his trailer on fire. Cole Cannon, age 52, died of his injuries and smoke inhalation. Evan was tried as an adult and an Alabama jury convicted him of capital murder during the course of first degree arson. He was sentenced to spend the rest of his life in prison.
Kuntrell Jackson was also 14 in 1999 when he and two friends participated in a video store robbery in Arkansas. One of the other boys shot and killed the store clerk. Jackson was not accused of firing the gun or intending to murder the clerk. However, he was convicted and sentenced to life without parole.
There are a few cases regarding juveniles, the death penalty and life sentences that leads one to suspect that the Miller/Jackson appeals will result in the abolishment of life without parole for minors in all cases. In 2005, the Supreme Court ruled that the imposition of the death penalty on minors was a violation of the Eighth Amendment. The Court stated that "The character of a juvenile is not as well formed as that of an adult" (Roper v. Simmons).
Then in 2010, the Court extended this reasoning to juveniles sentenced to life without parole in non-homicide cases. (Graham v. Florida) It is not too far-fetched to expect the same reasoning to be applied in the Miller/Jackson cases. Teenagers are teenagers – the degree of involvement in a crime is based on the same scientific findings regarding the development of the adolescent brain. Simply put, teenagers aren't as morally responsible for their acts as adults because they haven't fully matured.
What do you think? Is a life sentence, meaning the remainder of one's natural life, an appropriate penalty for someone 14 years old? Can you think of a situation where this might be acceptable? Does it depend on the nature of the crime or the number of people murdered?
Update: On June 25, 2012, the Court held that life without parole for juveniles in homicide cases is an unconstitutional violation of the Eighth Amendment when it's a mandatory sentence under state law without adding age and other factors as a consideration for the sentencing judge. This will affect approximately 2000 incarcerated juveniles and prison inmates in the U.S. serving life without parole for homicides they committed as a minor. Currently, 29 states allow such a penalty to be imposed.
In June, 2015, the Arkansas Supreme Court ruled unanimously that the Miller decision is retroactive, meaning it applies to all state inmates including those incarcerated before the decision in 2012.
During the Supreme Court's 2015-2016 term, it will consider a case to determine if their decision in Miller/Jackson should be applied retroactively. The case is Montgomery v. Louisiana. In January, 2016, the Court ruled that Miller is retroactive. That means that all persons serving a life sentence without the possibility of parole for a crime committed when they were under eighteen are entitled to a review and possible resentencing.
Under the Montgomery decision, in July, 2016, four inmates in Pennsylvania were granted parole after serving decades for their juvenile crimes. Hundreds of additional cases are under review. The parole board considers their history, victims impact letters, and behavior while incarcerated. Reportedly, Kuntrell Jackson was released from prison in 2017, at age 31.
On the other hand, Henry Montgomery, the plaintiff in Montgomery v. Louisiana, remains in prison. The 72 year-old was denied parole in April, 2019 with one parole board member voting against his release until he takes more classes.
Find great resources in our
---