On-air profanity barred by U.S. Supreme Court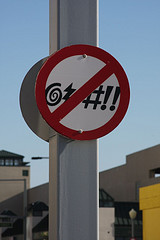 On April 28, 2009, the United States Supreme Court* continued its effort to protect children from offensive language on television and radio. 
The Court upheld the ban on indecent language including the word  s__t  or the F-word that are aired before 10 o'clock at  night.  The ruling covers single word violations by broadcasters as well as  repeated expletives.  Although adults have a constitutional right to indecent materials, courts have upheld the government's authority to  keep it from children.
The controversy over indecent language on the air  heated up in 2004 when U2 singer Bono said on live television that winning an award such as the Golden Globe was "really, really f—ing brilliant."  Other celebrities including Cher and Nicole Richie also ran afoul of the rule in broadcast programs.  The federal law does not apply to cable content or the Internet.
*see F.C.C. v. Fox TV Stations – U.S. Supreme Court, 2009.
What do you think about profanity during the so-called family hour?  Are you concerned about your younger brothers and sisters being exposed to offensive language?  Should there be limits set by the government or should parents decide what programs come into their home?
Find great resources in our
---